DISCOUNT CODE AT THE BOTTOM OF THIS BLOG…
I don't know about you, but there are times before I work out that I feel tired and sluggish. I wonder how I'm going to get through the workout.
My friend, Craig Dinkel, an amazing endurance athlete who went to the Olympic trials as a sprint swimmer, is the founder of Biotropiclabs.com.
He told me that he developed two different formulas — AFA and Oxia — to give you the extra energy and boost needed for long endurance activities. Both are clean and only have all-natural ingredients.
He recommended I give them a try, which I did.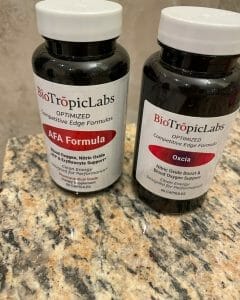 AFA
According to the biotropiclabs.com website, AFA is the crème de la crème of the Blue Greens and provides energy lifts for higher levels of training, brain focus, blood oxygenation, and support for stem cells recovery resulting in higher levels of training and competitive outcomes.
This formulation was developed to oxygenate muscles, boost power, increase muscle growth, heighten alertness, focus, and aid in recovery. Containing the highest levels of chlorophyll, this formulation supports delivering a greater amount of oxygen-rich red blood cells to muscles throughout the body, most notably when you're exercising.
OXCIA
Oxcia supports clean, natural energy production via a priority formula, delivering high volume blood oxygenation & Vasodilation. It is unique, different than other formulas. While we use well-documented ratios within the formula, it's the source, and the timing of how we source these highest quality ingredients that produce superior results, benefits you've not received with other support supplements. We also moved to a tablet form to offer the intended benefit of slow-release so you'll get better, and longer, support.
BioTrōpic Oxcia, like our other apex supplements, is a clean, energy-sustaining biological edge sports supplement containing apex-class, sports performance ingredients. It allows you to exercise or train at successively higher levels with less effort, delivering superior results in training and competition.
Taking them for a test drive
Craig sent me a sample of each and told me to take them together a half hour or so prior to doing an endurance sport activity. To be honest, I was skeptical. I didn't think it would work.
Feeling very sluggish and tired prior to and after working out, I knew I needed a boost.
I took AFA and Oxcia prior to swimming three miles. It definitely gave me a boost of energy and the best part, these formulas are made from all-natural ingredients including beets, apples, and other natural ingredients.
Being curious if it felt the same way on a run and a long bike ride, I took them both and felt incredible. I was pleasantly surprised at how good I felt during an 8-mile run with my group. (I had done 6-miles the week before and was exhausted after that! When I did the 8 miles, I felt great!)
When I told Craig that I felt like I wanted to sleep in the afternoon around 2 o'clock following the endurance activity, he suggested that I also take Chlorella.
Chlorella
According to the Biotropiclabs.com website, Chlorella stack is the best sports performance and recovery stack for athletes seeking the highest competitive level outcomes as well as deeper recovery.
It also says, "Chlorella is perfect for those looking to up their endurance, grow more muscle, oxygenate and recover. It is designed to detoxify and deliver cleaner blood when you need it most – to hard-working muscles. This, in turn, gives you higher octane to train and compete with. Also, its anti-inflammatory properties assist in the prevention of deterioration of muscle protein and muscle atrophy.  By stimulating leukocyte migration from blood to tissues, Chlorella protects against injury and greatly aids in recovery."
Many people ask what is the difference between Chlorella and AFA, the website explains, "their ratios are differentiated and each has a stand out an ingredient that produces different outcomes."
Craig told me that it should be taken in the afternoon as a recovery.
Taking it for a test drive
So after taking AFA and Oxcia, I also started to incorporate Chlorella on only very long workouts of more than 90 minutes. I immediately started to feel stronger and healthier. I also felt like I could keep going. The Chlorella definitely helped with the inflammation and recovery. And, instead of sleeping at 2 pm, I was able to continue to work!
I highly recommend these natural supplements as part of a regular regimen. I plan on continuing to use them as I train for the half Ironman in North Carolina. Thanks, Craig for turning me on to some great products!
Craig is offering a 20 percent discount to all of my friends and family. Go to his website at http://www.biotropiclabs.com and use code: Hilary20 for 20 percent off!
Give it a try, and report back and let me know how you feel. (BTW, he will take back products that you feel don't work!)