A couple of weeks ago, seven members (Didi, Dawn, Rebecca, Colleen, Laura, Ray and Jon) of Team Galloway Long Island and I attended the Hamptons Half Marathon on Long Island. We had been training for this event for months and since Southampton was far for most of us, the six women decided to book a room at the Atlantic Hotel in Southampton, only minutes from the race site.
Didi drove out east with me from the south shore of Long Island. Southampton was about two hours away. Although we left in the early afternoon, there was still traffic. When we arrived at the hotel, Rebecca, Laura and Dawn were already there. Colleen told us that she would meet us at the restaurant after work.
After settling in, we drove to the school to pick up our numbers. It was pretty well organized and we got through the process quickly. The organizers were even giving away tee-shirts from past races. Even though I have more race shirts than I know what to do with, I took a couple. (Everyone was doing it… haha)
Dinner in Hampton Bays
After that, we went to dinner in Hampton Bays. It was an awesome restaurant and the dessert — cookie and cream ice cream in a oreo cake — was incredible. That was the first time in a long time that I had dessert. We celebrated Laura's birthday and headed back to the hotel to get a good night sleep before the race.
Race morning, we woke up and got dressed immediately. Ray and Jon, other members on the team, were meeting us at 7 am so we didn't want to be late.
Luckily, we had VIP passes and got a great spot at the High School. The race start was a quarter mile from the lot. We headed over to the start. You could feel the excitement in the air.
On Making a Pit Stop
"Can we make a pit stop?" I asked Laura. She smiled and followed me to the "shortest" line. Although we thought they were following us, Colleen and Didi were on a different line. We waited. The lines were long and close to start time. We started to get anxious. Dawn and Rebecca saw us and came over. We were all chatting. By the time we finally got to the bathroom, the start was just about to begin. We ran to the start line and said our quick goodbyes to Rebecca, she was doing the 5K race.
Dawn started looking pale. I knew she would do good. She prepared for this for a long time and did the work. I told her that she would "rock this one." She smiled.
The gun went off
As soon as the gun went off, I lost Laura and Dawn. Ray and Jon ran together at a 3/30 (3 min run/30 second walk) pace and I wanted to start out slow so I went 15/30 (15 second run/30 second walk) to start. I was keeping a good pace, around 11/12 minute mile (which is decent for me). By mile 2, I caught up with Didi.
"Where were you guys?" I asked, referring to her and to Colleen.
"We were in the back. We were looking for you guys but couldn't find you," she said.
We ran together for a mile and then the next mile, we played "cat and mouse." Then she said, "this is a little aggressive for me, I'm going to slow down." Moments later, she was gone. I continued.
The Hamptons are beautiful
The scenery was magnificent. The trees were starting to turn and we ran passed beautiful homes, farm lands and beaches. At around mile 6, I saw Colleen in the distance. "Hmmm, I wonder if I can catch up?" I thought.
I caught up within minutes. She smiled. "I'm wearing earphones but I don't know why because I don't train with music," she said. I laughed. She always seems to make me laugh.
We ran for a mile to two together. We were talking. "You know, we're going very slow," she said.
"Oh, so I guess this means we need to get competitive?" I said and smiled.
I was doing her run/walk ratio of 12/25. We saw a group of Team in Training folks. "What ratio are you doing – 30/30?" they asked. Colleen told them the interval.
Seeing Team in Training
Later, when I left Colleen, I caught up with Team in Training runners again. I asked the guy, "what are you doing?"
He said, "4 minutes/1 minute." But it didn't seem like he was doing that. In any event, I thought to myself, "ha, their doing it wrong." And, they couldn't sustain that. Actually, I met Lobster man and a couple of other people trying the run/walk/run method and they were all doing 4 minute run/1 minute walk. I laughed because this was the old method that doesn't work, and it sure didn't work for them. They all came in way after me.
Although we are all trying to get through this, Jeff Galloway's method really works when you do it right!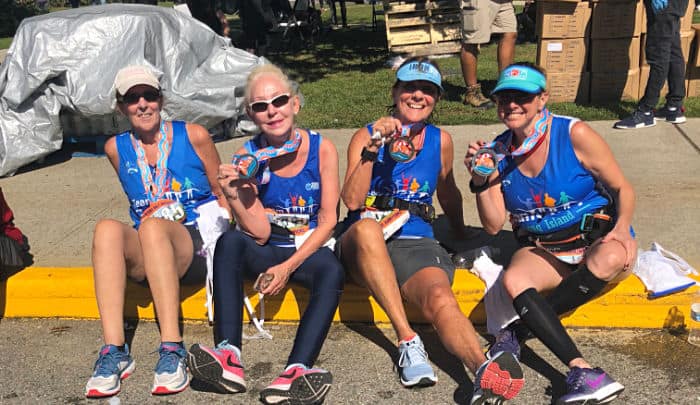 The whole back of the pack was run/walking. It was kind of awesome.
Can I PR this?
About a mile and a half from the finish line, all I kept thinking was, I can PR this if I step it up. But then, when I thought about it, my hip started bothering me, my achilles hurt and I just didn't have the energy left to step it up. I was about a mile and a half out and I had it, then I lost it.
What excited me most was that Rebecca PR'd her 5K, Dawn PR'd her half marathon, Laura took home 2nd place in her age group, Didi finished her first half in two years nice and strong, Colleen came in strong although she did get injured at mile 10, which was upsetting. Both Ray and Jon had a great race.
All in all, we had a great time at the race and finished it off by going to the Vineyards for some wine, cheese and lots of bees (well, that's another story!).
Have you done the Hamptons half? What was your experience?