The Long Beach Lifeguard Memorial Swim has been around for years. And, I remember thinking it was only for lifeguards. So, when I found out this year it was open to all swimmers, I thought, "sure, why not?"
I decided to swim the half-mile. They had a 1-mile option as well. The "little" half-mile was more like 1,200 yards, according to my Garmin. Wetsuits were not allowed during the race. However, if you wanted to wear one, you weren't eligible for an award and you got a 5-minute penalty.
I didn't care. I wasn't looking to place. I was there to swim in the ocean at the Long Beach Lifeguard Memorial Swim and have a great experience. And, that's just what happened.
At the start of the race:
We had to walk 1/2 mile on the beach to get to the start. (There were buses for the 1 milers. But, many of the 1 milers walked.)
My legs were burning as I plowed through the sand. I tried to go over to the harder sand to walk because I was finding it impossible to walk on the soft sand.
There were a handful of people at the start of the 1/2 mile Long Beach Lifeguard Memorial Swim. The race director took down my number to tack on the additional five minutes. So, going into the race, I wasn't thinking it was a race. I was thinking I'm going to go for a pleasant swim with my swim buddies.
At 9:05 am, the race director blew the horn and the 20 or so of us jumped into the water and swam to the buoy. The water was choppy but not as bad as it has been. We were swimming with the current but it didn't feel like it as we were swimming. Going out was a little rough.
As we swam, I felt as if I were on a water bed going up and going down. I loved every moment of it! I was in my happy place and I didn't want it to end. There was no one around me and I felt at total peace and harmony with my body and with the ocean.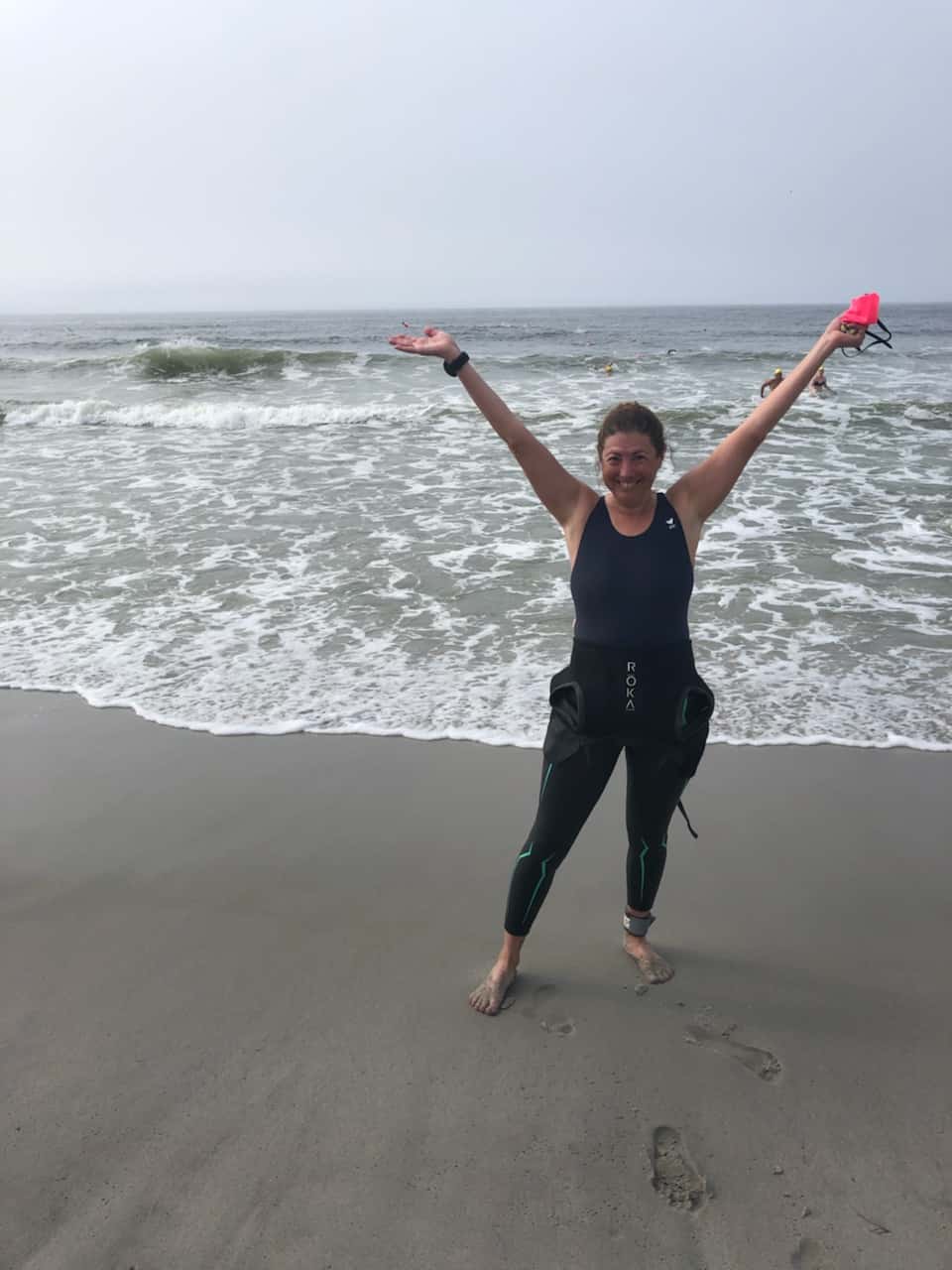 FlashBack
I grew up in Long Beach, but I never went into the ocean. My mother forbid me to go any further than my waist and she instilled this fear in me that I would get pulled out with a riptide. If I went into the ocean, which was rare, I would go to waist-deep, dunk my hair and come out.
As I was swimming in the Long Beach Lifeguard Memorial Swim, deep into the ocean, I let it all go. All I kept thinking was it's taking a long time to get to the finish, but I didn't want the finish to come… I was loving this swim.
Last Buoy
At the last buoy, I turned and suddenly there were four or five swimmers around me. Now it was race time. Before, while I was in the water, there was no one around me and I felt like it was just a wonderful swim. Everyone going in, kicked it up a notch. (I guess I should have too but I was enjoying myself so much!)
Would I recommend it?
I would definitely recommend the Long Beach Lifeguard Memorial Swim. It's small and there didn't seem like there were many lifeguards in the water but if you're not fearful and don't need that extra support, you will love this race.
It's funny when I got to National Beach, I was thinking, "maybe I should go home." But, with a little hand twisting, I decided to go for it. And you know what? It was an amazing experience. I can't wait to do it again next year!
P.S. I won 2nd place in my division even with the penalty! Wooohooo!!!