Pt. Lookout Ocean Swim Review
After leaving the Bronx when my mom was a young girl, my grandparents built a house in Long Beach across from Lindell School. My mother and her brother went to High School there and after my mother got married to my father, we grew up around the corner from my grandparents on West Chester Street and Grand Blvd. 
In all the years I lived in Long Beach, I never swam in the ocean. My mother would say, "don't go out passed your knees, the current will take you in and you will drown!" So, I was always afraid. 
Fast forward 40+ years later and I just swam my first ocean swim in Long Beach. I no longer live there, but it was thrilling non the less! All of those years dipping my toe in the ocean and always too scared to go in passed my knees, and here, I was far out in the ocean competing in a mile swim. It was simply AWESOME!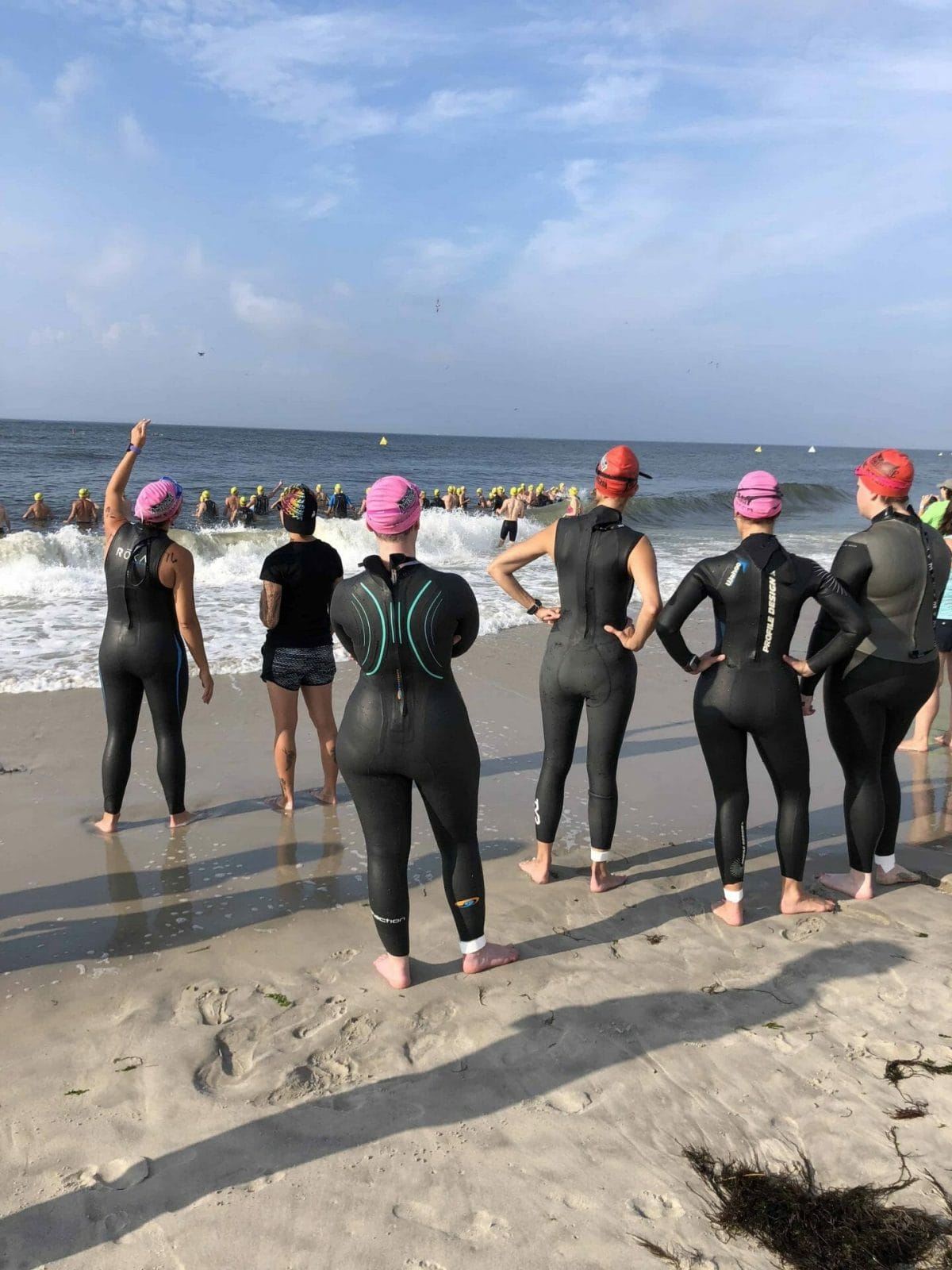 The day got started later than usual, which I was thrilled about. I got to Pt Lookout at 7:30 am. Got my timing chip, got body marked, met some of my swimming and tri buddies and put on my Roka wetsuit. 
We walked onto the beach and Lisa Baumann and Corey Roberts, the race organizers from Excel Swimming, were giving us the details of the swim. Then the 2 mile swimmers, in yellow Race Awesome caps, were off.
Ten minutes later, the pink caps lined up. Wetsuits and non-wetsuits went in to the water together. We swam the 1 mile course. This was out and back. 
I found it interesting that we had to keep the buoys on the right side. I thought typically in races, it is on the left side. So I focused on going passed all the buoys on the right. 
About halfway into the swim, maybe a quarter mile or so, another pink capped swimmer was next to me. She kept swimming across me. I would try to get away from her because I kept envisioning her to kick my nose plugs off. (I know, I wear nose plugs! Nose pluggers unite!) It was a little annoying, I will say. At one point, I screamed out, please stop crossing my path. But she was very focused and didn't listen. She swam from one side to another and then back in front of me. I was happy to pick it up on the swim and try to get her out of my line of sight. I started to sprint in the water and very quickly, she was out of sight! I was happy.
There was a current going out and a I was swimming, I was having flashbacks.
I thought about the first time I swam in Camp Mikan when the counselors would tell me to put my face in the water and I wouldn't because water would go up my nose….
or, the first time I got into a pool and tried swimming 25 yards and couldn't…
or, the first time I went to Open Water Swim LI and Bryan Krut blew bubbles with me in the water,
or, when I swam with Maggie Stovickova and Roy Lester at Total Master Swim and they taught me to use my latts instead of my arms. I could hear them say, "REACH…REACH…"
or, when I swam with my coach, Danielle Sullivan of Iron Fit Endurance and she was encouraging and understanding every step of the way.

It was a long road to get here, but now I'm swimming in Long Beach for the first time in my life and I'm loving every moment!
I made it to the final turnaround buoy. Everything was well-marked. There were so many directional buoys you knew exactly where to go.
The way back was fast! I kept thinking Lisa Baumann is brilliant! I wanted to take it easy on the way back, and with very little effort, I felt like I was flying passed the directional buoys!
When I was close, I felt a little disoriented. I knew it was over, but I wasn't sure where to go. That's when I stopped and asked the lifeguards. They pointed out the end buoy to me and I was set.
I swam as hard as I could. This was it. I did it. I finished it and I felt strong. I felt exhilarated. I was so happy. I swam in my ocean. The Atlantic Ocean. The one that was down the block from where I grew up. The one that I was told never to swim in because of the danger. I conquered it and I felt great! 
It was awesome to walk away with a silver medal but the medal I won at this swim was finishing strong and having a big smile on my face at the end!