Your introduction to a great open water swim begins with the motto, "Lucky's Lake Swim – Enter the food chain."  Ha, ha!  As if you need another reason to worry about open water swims, Lucky Meisenheimer, the founder, and sponsor of this daily event, plays on that anxiety and adds in a suggestion of Florida alligators.  Never fear, Lucky's Lake Swim is a bucket list item for any triathlete or distance swimmer visiting the Orlando area.
The swim is at Lucky's residence on the shore of Lake Cane.
You pull into the driveway of a large white house on an expansive lawn.  People are invited to park on the lawn if there are not enough spaces in the driveway.  As you make your way down to the dock, one of Lucky's dogs is often there to greet you and, if not, a friendly volunteer will ask if you are a newcomer and have you sign a waiver and give you a Lucky's Lake Swim cap, the first of several pieces of swag you will get that day.  Most of the swimmers are regulars but there is at least one first-timer each day from all over the United States and often from other countries.  If you don't have a safety float, there are plenty to borrow at the dock.  There is no fee to swim at this event.  This is all done free of charge courtesy of Lucky who has created a most unique swimming community.
The swim is held at 6:30 AM Monday thru Friday, and Saturday at 7:30.
Stepping into the water, you'll notice large fish surrounding the dock.  They are carp added to the lake by Lucky to feed on the underwater grass that could make swimming a challenge.  The carp congregate by the dock because Lucky keeps a large can filled with food to feed the fish every morning.  It's not uncommon for fish to bump into a swimmer causing him or her to jump a few feet into the air.
The swim starts when Lucky comes down to the water with his dog Luna.
Luna barks and off you go.  There are all sorts of people at this event from fast swimmers of all ages who complete the crossing in a blink of an eye to middle-aged parents who, in a nice bit of role reversal, are encouraged the entire way by their much faster children.  The course is a straight 500 meters out and back marked with several buoys to keep you from wandering too far offline.
Depending on the time of year, the sun will be rising at the start of the swim, or, better yet, as you're crossing the Lake.  You'll notice the water quality is very good despite the lake being in the middle of a heavily residential area surrounded by several well-trafficked roads.  Part of this is due to the lake sitting atop one of Florida's aquafers infusing the lake with a regular supply of clean water.  It also helps that Lucky created an associated non-profit called the Lake Cane Restoration Society which promotes smart ecology practices in the surrounding area minimizing pollution from road run-off.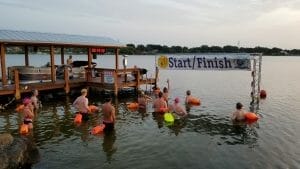 Swimming across the lake is enjoyable but the fun doesn't end when you get out of the water.
First-timers ring a small bell near the dock to commemorate their first crossing and get their picture taken which is posted on the group's Facebook page. You also get to sign your name on the wall of Lucky's house.  Trying to find an open spot is a challenge as there must be several thousand signatures from swimmers across the country and even the world.  Swimmers who complete 100 crossings get to ring a larger bell and circle their names on the wall with a gold marker.
Next, you have your picture taken next to a stuffed alligator while holding a sign that says, "I survived Lucky's Lake Swim."  Finally, what's an event without swag?  As I mentioned before, you get a Lucky's Lake swim cap, but after the swim, you get a patch, bumper sticker, and a free day pass to the Rosen Aquatic Center among other goodies.
It's not surprising that people return again and again for this swim.
The welcoming environment, the quality of the lake itself, and the fact that all of this is done courtesy of Lucky's philanthropy make for a unique experience.  I'm sure there must be something comparable, but I can't think of anything right now which is why I head over to the lake whenever I'm in Florida visiting my kids.  I'm up to fifteen crossings and, hopefully, in a few years, I'll reach 100 and get to ring the large bell and circle my name on the wall in gold.
Here's the link to the Lucky Lake Swim website.  Be sure to read the very funny FAQ.  They also have a group page on Facebook.
About Ray Cushmore:
Ray is your average age-grouper triathlete who discovered the sport five years ago and wishes he found it much earlier.  He's completed one official 70.3 where, out of desperation, he pee'd on his bike.  He's been told this makes him a "real" triathlete but this aspect of the sport is something he hopes to avoid in the future.