Since races have been canceled as a result of the pandemic, my running group and I decided to hold a "do it yourself" race called, the Festival of Things (FoT).
The FoT gave everyone the option to do something out of their wheelhouse or not. It was a time to celebrate life and to enjoy the beautiful outdoors before we got cooped up again.
The Plan
Ray C. planned on doing a half Ironman (1.2-mile swim, 56-mile bike, and a 13.1-mile run) since his half was postponed until next year.
Irem, Jon, and Trish planned on a marathon. I believe it was Trish's first one.
Monica planned on an Olympic Triathlon. Her first!
Danielle was going to bike for 17.1 miles
Christine and Marc were going to run a 10K
I decided to do a half iron AquaBike (1.2-mile swim and 56-mile bike)
Half Iron AquaBike
I didn't plan on doing a half iron AquaBike. Originally, I was scheduled to do a relay at EventPower's Mighty Montauk this weekend. I was going to swim the 1.2 miles, Irem was going to run and Bill was going to cycle the 56 miles. However, the pandemic put a damper on that.
I spoke with my coach, Danielle Sullivan of Iron Fit Endurance, and asked her what she thought. She was excited about the possibility of me doing an AquaBike. I wanted to step out of my comfort zone and get stronger on the bike.
Since I had been training with Ray for the 1.2-mile swim, I felt confident that I could do it. We swam more than 2 miles and it felt easy to me. So I knew I was ready.
But, the bike I wasn't sure. I finally got up to 40 miles but that was it.
The Night Before the FoT
Ray organized the swim, bike, and run course. I just send around the materials to the WeREndurance team, to AWTT, and to Iron Fit Endurance. Everyone was welcome to participate.
That night I couldn't sleep at all. I kept thinking about the course. I was nervous, anxious, and excited all in one. If I could do this, I could compete in a half ironman event. I've been trying to do a half ironman event for the last five years and something always stopped me from doing it. I wanted to prove to myself that I could do it.
The Day of the FoT
Ray and I arrived at Tobay beach at 6 am. Thankfully, the bathrooms were open! As we got settled, I noticed another team there. The other team had music going and it seemed like a lot of people. Turned out, this other team had four people competing in a half ironman event that same day.
"That is so funny," I said to the coach. "We are doing it too!"
Ray and I got our swim stuff together and before we knew it, we saw Dawn F. and Danielle M. It was incredible to see them there at the swim start. It made my day. Just as I was telling Dawn and Danielle how grateful I was that they were there, in walked Monica. I was shocked and excited at the same time. (Danielle M. and Monica hate getting up early.)
Following Monica, was my coach, Danielle Sullivan. I was so honored to have her there. It really meant so much to me! I was totally psyched to get it done.
Swim Start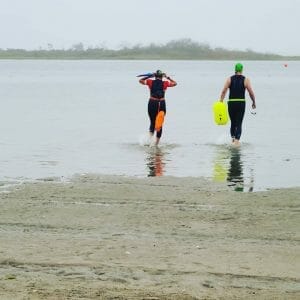 Once we had our wetsuits on, I said to Monica and Ray, "good luck to you…" and I started the swim. There were no guns, no swim start, just a "do it yourself" event.
I always get out of the gate fast because I'm usually cold. Once I warmed up, I go into a rhythm and feel very confident in the swim.  I had so much energy and felt myself swooping the water with my arms and propelling my body forward.
I wore headphones and listened to the Silversun Pickups.
The thing about the swim was that there were two days that we trained where the sky and the water looked the same giving a strange illusion where you felt like you didn't know where the sky was and where the water met.
(If you have ever gone skiing, it was like a whiteout where you couldn't see anything.)
It was hard to see. The sky was so dramatic.
On those two other days, when the water and sky were the same color, it depressed me. But on this swim, it made me smile. Actually, I think I smiled the entire swim.
Why couldn't the swim go on forever, I thought.
The buoys seemed to come up faster than I wanted. I felt like a kid on a roller coaster saying, "I want more!"
When I finished my 1.2-mile swim, Danielle Sullivan greeted me. "You did well," she said, "You did that 1.2 miles in 50 minutes. Great job."
She mentioned that Ray had finished nearly 7 minutes earlier and was on his way to T1. Monica was still in the water but I knew she would catch up on the bike and the run.
I got into my car, after being totally scraped up from the wetsuit and followed Danielle S. to Parking lot #6 at Jones Beach.
Swim Course: 1.2 Miles 50 Minutes
T1 – Jones Beach Parking Lot #6
I tried to get as organized as I could but it's difficult having transition out of your car. The bike came out first and I started to get myself ready for the ride. I said to Danielle, "this is now the hard part." I gave her a smile.
Danielle M and Dawn F were at the parking lot. Dawn was injured and I was amazed that she came out to support. They are both amazing people! "Wait, I need a photo," Danielle M. said. Danielle S. also took a photo.
I road out onto the path. I was heading to Cedar Creek and making three loops and then adding a couple of extra miles for the 56.
The Bike Course
I knew the bike course would be crowded but it wasn't terrible. There were plenty of people on the course which slowed you down a bit. I didn't care. I just focused on getting it done. A few times during the first 17 miles, Danielle Sullivan caught up with me. She's was a professional triathlete and an amazing athlete so to have her on the course during my "big event," meant so much to me. She gave me pointers as I road and they were very helpful.
When I went out to Tobay there was a headwind. She found me and told me to "keep aero." She said it would help. So on the second loop, I tried staying aero the entire time in that section and the third loop I went even faster than the first or second loop.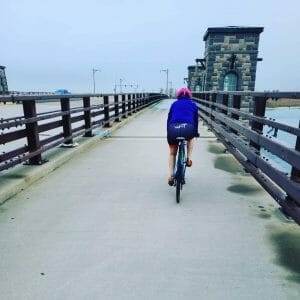 As I was cycling I saw Ray several times going in the opposite direction. He looked so happy. I was excited for him to do his first half iron. I knew he really wanted to do Montauk.
On the bike course, I saw my marathon group a couple of times as well. They looked strong. It was exciting to see them out there.
At the Cedar Creek area, I saw Marc and Christine a couple of times as well. Great seeing them too!
Every time I made the turn from Cedar Creek to Tobay at the Jones Beach pass, I would see Dawn and Danielle. They were cheering so loud that other random people cheered too!
When the computer got to 50 miles, I yelled out loud, "I just got to a quarter of a century ride!" People around me just looked at me, but I was used to it by that point because I was singing out loud as well as I road the course.
At 51 miles, I was done. I had no nutrition or hydration left so I went back to the car. I saw Monica. She had just finished up and I congratulated her. I was so proud of her for doing the Olympic. That was huge for her as well.
I ate a bar and drank some The Right Stuff and I was determined to finish the last five miles. I went out 2.5 miles and then on the way back in, I met a guy named Steve. He was a good rider. We were riding together and I told him that I wanted to ride 56. "Where are you at now," he asked. "55.5," I said.
I was almost there. Just as I made it to 56 miles, I saw Ray. I yelled out, "56 miles baby! YAY!"
Steve turned to me and smiled. I told him that he now is part of my journey to 56 and I thanked him. Hopefully, I'll see him again.
Bike Course: 56 miles – 4 hours
The Aftermath
When I finished I saw Monica again. She told me she was leaving because she had a prior commitment. As soon as she left, I saw Danielle M. We set up some towels and a chair and hung out at a "tar beach." We could have gone to the real beach but I think we both wanted to watch as our team members came in.
Irem and Jon came in soon thereafter and we just sat on towels in the Jones Beach parking lot. We laughed and tried to stay away from politics. Ray came in but he wasn't finished. "I have four miles to go," he said.
At that point, Irem and Jon left. Danielle and I stayed to see Ray come in. We sat for another hour but we didn't see him so we both left. I was done. I needed a shower stat!
Danielle M. makes me laugh and we had a couple of laughs before departing. We put a note in Ray's car to tell him we were leaving.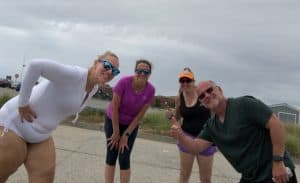 At Home
As I sit here reflecting on the day I have a big smile on my face. I never thought I would get to 50 miles this year and I never thought I would do a half iron AquaBike. But, I'm glad I did. It was an awesome experience especially since it was a "do it yourself" race.