I ran the NYRR Mini 10K Event in Central Park three times — once in 2015, 2017 and one on Saturday. And you know what? The race was just as good this time as it was the first time I ran it!
The big difference for me, I ran it faster on Saturday, than the other two times. Interestingly, my daughter also ran this race all three times with me. She ran it faster too.
Nearly 10,000 women run the NYRR Mini 10K Event. And, as my running teammate, Dawn said to me after the race, "it's a well-oiled machine. Everything is flawless."
Team Galloway LI
My teammates from Team Galloway LI — Monica, Irem, Dawn, Merril, Kathleen D., Grace and I attended this sold out race. Monica and Irem came in alone so it was incredible that we were able to find them! Dawn, Merril, Kathleen, Grace and I drove in from Long Island.
I was feeling sick and very congested when I woke up and wondered if I should cancel. Knowing that I was driving four other people into the city, I felt committed.
We left Merrick at 6 am and was in the city in lightning time. It is such a pleasure going into the city with no traffic. We parked near the start of the NYRR Mini 10K Event and walked over.
We stood by the statue and waited. Soon after that, I saw my daughter, Zoey and her friend, Kendra. We snapped a photo.
At the NYRR Mini 10K, it was fun to meet members of the Galloway NYC team and also members of the NYC Flyers.
At the start line
Close to 8 am, we lined up. Most of us were in Corral "L." It didn't matter because the timing started at the mat. But it would have been nice to be in a higher corral so that the start time would have been sooner. We stood on line for nearly 40 minutes before we took off.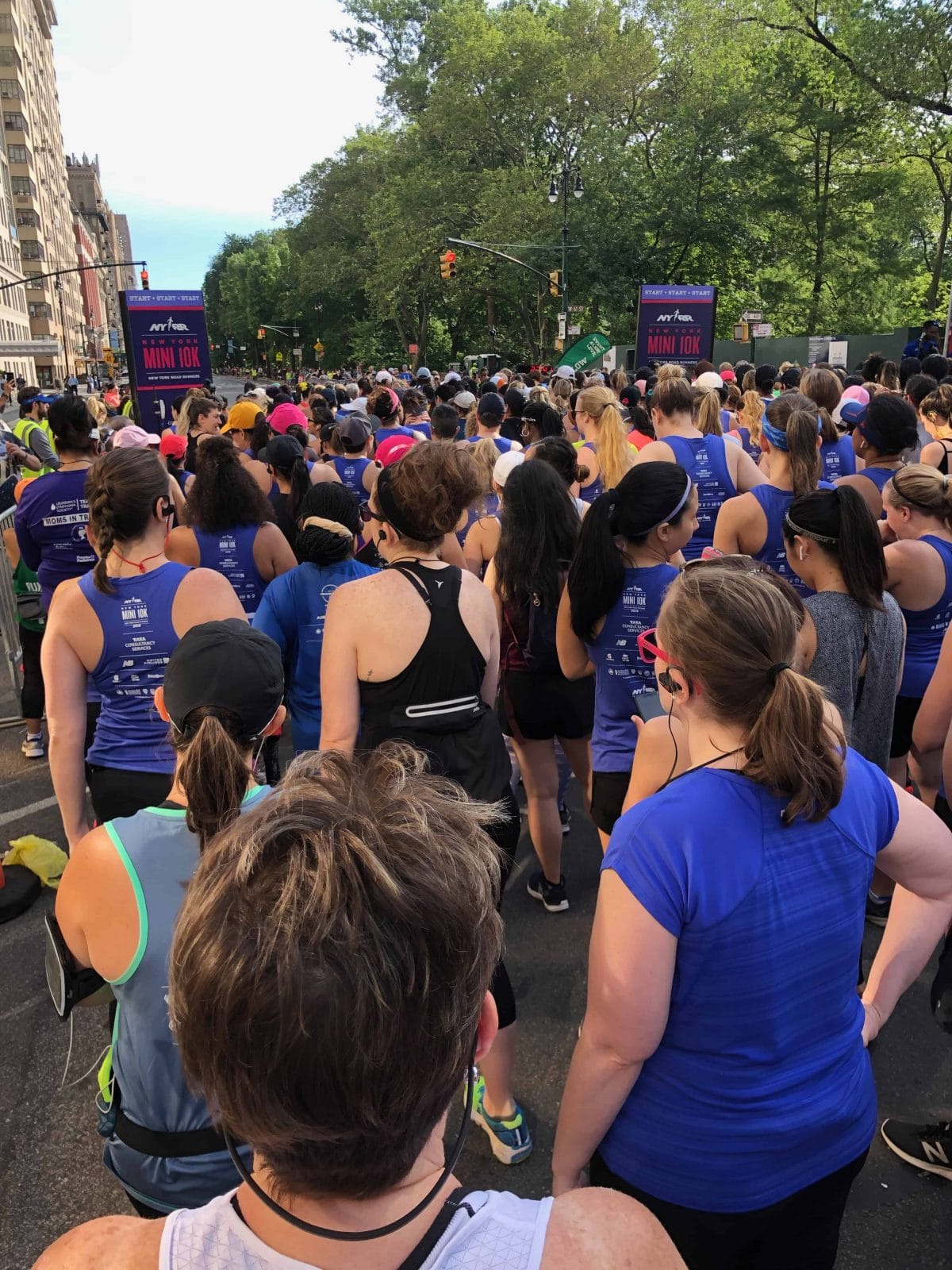 Once the NYRR Mini 10K got started for corral "L", we ran uptown on Central Park West into the 80s before we headed into the park. Kathleen and I were playing cat and mouse for the first three miles. It was great seeing her on the course. I didn't see anyone else on the course.
It was a big downhill in the park, but I knew what was coming. I tried to get in the speed on the downhill because once Harlem Hill hit us, I knew I would slow down. Funny, this time and at the Global Running Day event, I thought to myself Harlem Hill isn't as bad as I remembered. I wonder if I'm getting stronger?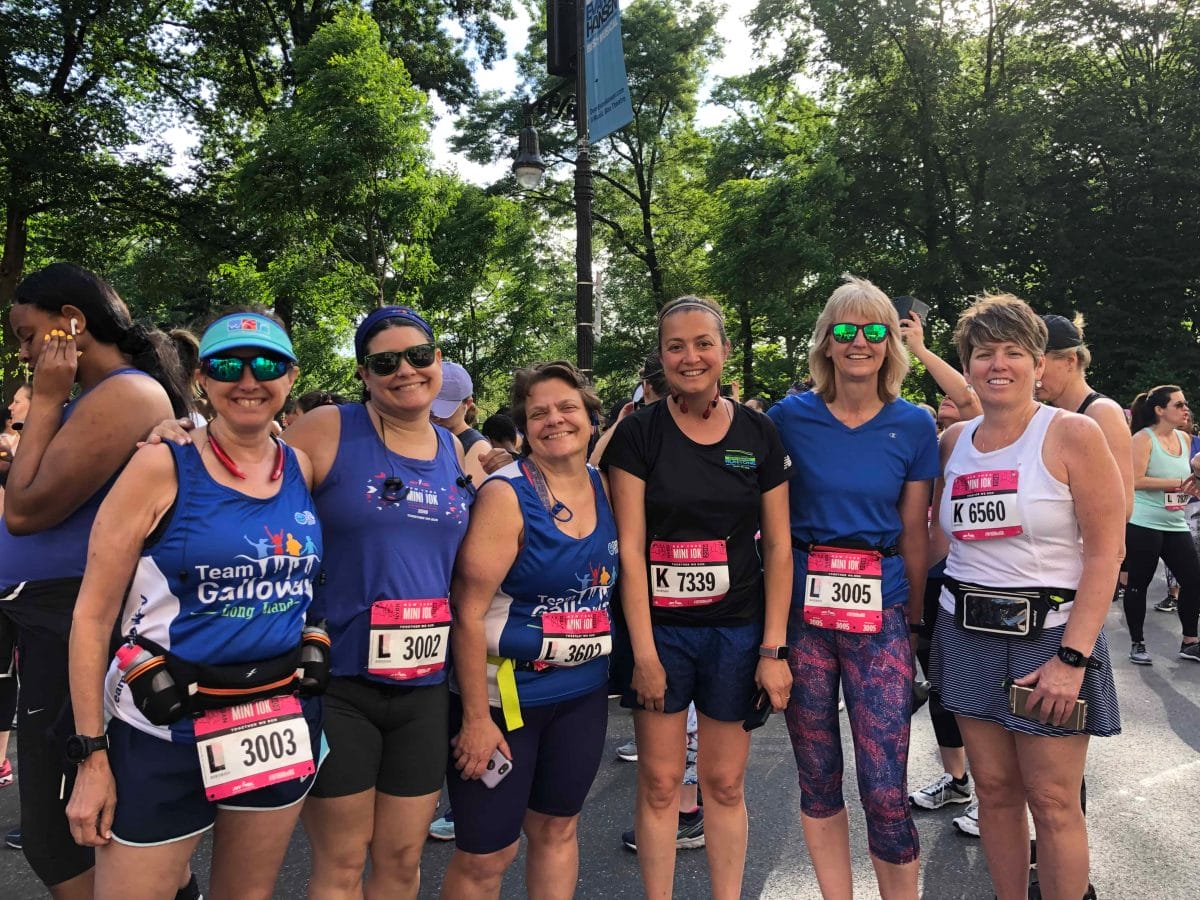 Course support
The volunteers were encouraging. Spectators were cheering. Everyone was so supportive.
At this point, I was at mile 4. I kept thinking, "just two more miles to go…" I didn't feel bad, my Achilles bothered me as usual, but my hip was okay. I was pleasantly surprised because the day before the NYRR Mini 10K, I rode my bike and my hip was killing me! (The massage at Element's in Bellmore helped.)
Almost 2 miles to go…
I ran a slow 4th mile and then decided I needed to pick up the pace. I need to move up to a faster corral, I thought. The heat was beating on my head. I couldn't wait to get to the water stop to pour water over my head.
Mile 5 felt easy. I was started to notice my Achilles less and just have fun with the race. There were times when I was running and I felt like I was flying. (Between the heat and running, maybe I was a little delusional?) My music was playing and I was in my zone. One mile to go. "I need to make this a good one," I thought.
I finished the race by hearing my daughter call out my name. That made me smile. I ran through the shoot, felt the energy from the crowd, and my daughter's boyfriend, Daniel, told me that I beat my race time from the prior years. "You killed it," he said.
After the race…
When we each finished the NYRR Mini 10K, we were given a beautiful medal (same or very similar to the one in years past), a pink bagel and a flower. Unfortunately, we didn't stay for the after party.
I found out that I wasn't the only one with a PR; most of the Team had a PR too! I was very proud of the hard work and dedication of everyone on the team.
Merril, Dawn, and I went for breakfast after the NYRR Mini 10K, and talked about the race. "The thing about NYRR is that they are so organized," Dawn said. "I loved the energy from this race," said Merril. I felt the same way.
Another great race NYRR! Thanks for organizing such terrific races…