This was the first race I did with my daughter. What a special experience running with her (well, she actually ran faster than me but we will keep that for another day.) Here's the post.
—-
I ran the Oakley Mini 10K last year. This year, I'm assuming Oakley was out and now, it's called the NYRR Mini 10K. The Mini is for the mini skirt and it's an all women's run that takes place in Central Park in June. There were thousands of women running.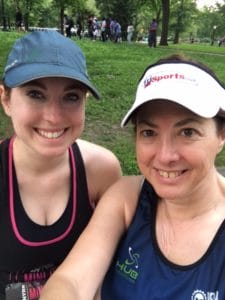 My daughter, Zoey, had been wanting to run a longer race for a while now. So, we decided on this race as her first one.
I decided to stay in the city overnight. Zoey stayed with me. When we got up, I put on my Iron Fit Endurance running outfit, my Pearl Izumi N2 Sneakers, made sure I had a full vial of Base Salt and wore my TriSports cap.
The two of us walked to the park from the Sheraton Hotel. We got to the park at 7:30 am. There were thousands of women there ready to go. We were in the last coral and waited. It wasn't long before we started moving. As we inched our way up, I turned on my headphones, my test drive of Lumo Run, and my Garmin 920xt.
At first, we ran together. I had 10 minutes to run with the Lumo Run because I was test driving it. After that, I parted ways with Zoey and, I went to a 30 second run/15 second walk segment like my running coach, Jeff Galloway, and my tri coach, Danielle Sullivan, instructed. My first 15 second walk was a disaster. I fell in a hole on the street in Manhattan. I landed on my hands and twisted my ankle. (Embarrassingly, two of the women stopped and helped me up. It was very nice, I just felt a little awkward.)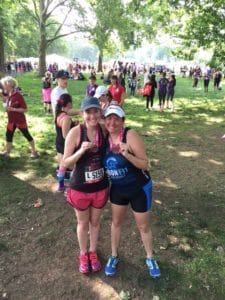 I picked myself up, shook myself out and kept on going! When I went down the hills, I ran fast. Going up the hills, I stuck with the 30/15. I tried to be consistent. (I've been having so much trouble running lately. I knew this was the way to go!)
I didn't even notice the mile markers, well maybe just a little. I was feeling really good. I felt strong when I was running and the 15 second recovery made it seem easy.
As I got to the last quarter mile, I knew I was going to PR this. I looked at the stats from last year and was thrilled that I was able to beat my time by 3 minutes!
I picked up my carnation, my pink bagel and my medal and looked around for Zoey. I texted her. I also texted her boyfriend, Dan, who I knew was tracking us the entire time.
I finally heard from them and they met me in the crowd. Zoey proceeded to tell me that she ran the entire 6.2 miles without stopping. She didn't even get water at the water stops. She kept going. (My girl on a mission!) I was so proud of her!  She came in three minutes before me.
Dan was so cute. I think he was just as excited as we were. He told us our splits, according to the NYRR website. (It's funny, Lumo Run, my Garmin and the NYRR had slightly different times. But even comparing the Garmin from last year to this year, I still had a 3 minute PR.)
We both left the race with smiles on our faces and they continued throughout the day! 🙂