Winter will be here soon and some of us will be putting away our gear and riding inside. But others, like myself, plan on riding throughout the winter months, except in the snow!
With that, Santic Cycling Apparel already has its winter lineup and sent me a couple of samples to review on this blog.
Santic Allen Women's Winter Tight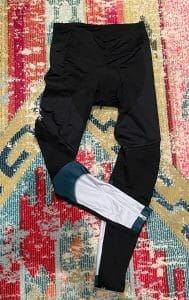 The Santic Allen Women's Winter Tights are perfect for those brisk winter days when the temperature is as low as 40 degrees Fahrenheit and as warm as 57 degrees Fahrenheit. The tights are designed to provide ultimate comfort on cold days and make winter riding easier.
Santic Allen Women's Winter Tight has added reflective details to ensure that you can be seen during night riding, while the lower leg zipper is perfect if you heat up. The materials are made of ultra-soft thermal fleece fabric for pedaling comfort and thermal regulation. It has a higher waist and is made of nylon and spandex. They run small through 3xl. The price is $73.99. You can buy it here: https://bit.ly/3eCFg1c.
Santic Taki Women's Winter Jersey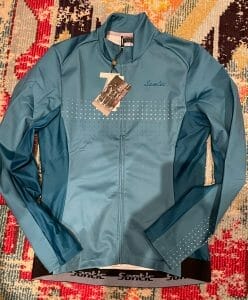 This jersey is HEAVY, very heavy! So once you buy it use it when it's cold out there, between 40 degrees and 55 degrees Fahrenheit. The design was inspired by the different planets that travel between the stars, and the gradual dots are like the stars. The main body is integrated with upright windproof fabric, which can form an air insulation layer with the skin. It has zippered pockets along with plenty of reflective safety details. It's made from polyester and spandex. The price for this jersey is $ 61.99 and you can get it here: https://bit.ly/3eMIsaG.