Book Review: The RunWalkRun Method by Jeff Galloway
Ever since I saw Jeff Galloway, Olympian and Running Coach, at a RunDisney event, I've been impressed. I tried his method in various variations but it never seemed to stick, until now.
I started working with Jeff during the summer. He's been coaching me ever since and helping me gear up for the NYC Marathon and possibly the JEG 13.1, held in Atlanta.
Although Jeff gave me a copy of his e-book and gave me a full schedule through December, I also purchased his book, The Run Walk Run (RWR) Method by Jeff Galloway.
The book is great. It offers concrete information that will either get you off the couch or for some of you, get you a quicker PR. Many people have qualified for Boston using his method!
The most important thing about the RWR, is that you train yourself to walk before you get tired. The method has a strategy. Most people run faster for shorter intervals with minimal rest, which can create a faster overall time.
The thing about this method is it's continuous. Many people run for as long as they can and then take a walk break, then continue running. When doing the RWR method, you can speed you average speed of 7 minutes faster in a 13.1 and more than 13 minutes faster in a full marathon!
Jeff Galloway has done extensive studies through the years and has found this to be the case in most, if not all, of his athletes.
The one question that comes up a lot is, " if I do the RWR method, am I considered a runner?"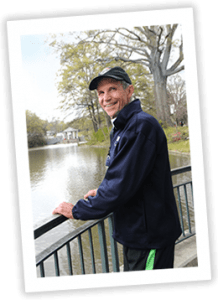 Jeff's answer is, "I've been on the US Olympic team and have run for more than 50 years and I didn't know that there was a running rule book that excludes walking. Could you show me this rule book?"
The first thing that I've learned is that you need to re-program your mind and allow yourself to trust the method. I found that hard in the beginning. I felt like I was going slower, when I was actually running faster!
The other thing that is important is to use the Magic Mile. Go to a track and do some drills that Jeff outlines in the book first. When you are all warmed up, run around the track for a mile. Take walk breaks if you want to. Then, take the time that you ran and calculate it by:
5K – add 33 seconds to the best MM
10K – multiply by 1.15
Half Marathon – multiply by 1.2
Marathon – multiply by 1.3
Long Training Run – Add 2 minutes per mile
So what does the RWR method also do for you?
Alleviates cramps during the run
Quicker recovery time
Less stress on the weak links
Enjoy the endorphins during the run
Reduce core body temperature increase
Less fatigue with more walk breaks
Interval training
Conserves resources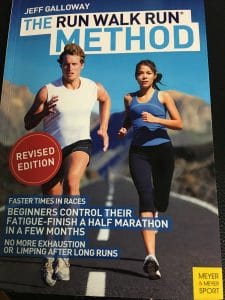 Jeff Galloway's method has thousands of testimonials that the method is effective and works. Through the years, he has worked and coached more than 200,000 people to meet their goals.
I can totally attest to this. I have always struggled with the run, ever since I started nearly six years ago. Once I was coached by Jeff, I truly understand the method and have been having successful runs ever since. I don't have cramping like I used to, I'm not always out of breath huffing and puffing, and I can truly say that this method has brought the joy back into running!
You can purchase Jeff's book on his website or on Amazon.