CEP, a company dedicated to adding compression to socks, recently introduced a new sock, The  Run Compression Socks for both men and women.
I was sent a pair for review on this blog.
CEP The Run Compression Socks
The Run Mid Cut Socks 4.0 were built for style and performance. They have targeted compression in the arch and ankle to increase blood circulation and provide premium support to prevent injury, reduce swelling, and help alleviate pain associated with Plantar Fasciitis and the Achilles tendon.
You can wear these for both running and for everyday use.
Here are some features: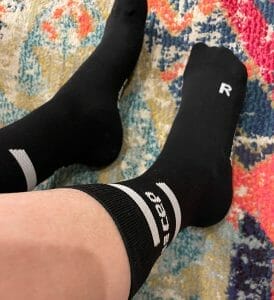 Moisture-wicking
Treated with silver to reduce unpleasant odors and eliminate bacteria
Blister-free
Shock absorption
It is made from 86% Polyamide, 14% spandex.
What did I think?
I thought the socks were thin but I liked how they felt on my feet. I also liked that they were compression socks. CEP makes a good product and if you like thinner socks, compression, that are mid-cut, these socks would be for you!
The price of the socks is $18.95 per pair. You can purchase them in a local running store or online at https://www.cepcompression.com/.