My running friends, Danielle M. and Sharon M. signed up for the Vegas Rock 'n Roll Half Marathon and suggested that the rest of our WeREndurance running group join them. I jumped at the opportunity. Running in Las Vegas on the strip would be awesome, I thought. Plus, I had meniscus surgery almost four months ago, so I thought it would be the perfect comeback!
There were ten people who arrived in Vegas this past weekend from the group to run Vegas. Two of them were relatives and the rest were runners in the group. Most did the 10K but Sharon and Danielle signed up for the 5K and the half marathon.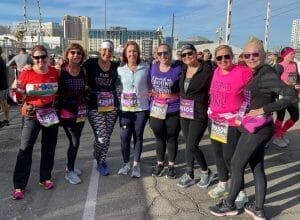 Rock 'n Roll Race Review
The interesting thing about the Rock 'n Roll Vegas race is that it starts in the evening. I came in a couple of days earlier to acclimate the time difference and dry air. My cousin met me, which was amazing since I don't see her often. (We live in different states.)
The 10K and half marathon were held on Sunday, February 27 at 4:30 pm.
On the day of the race, the group had brunch together, and then we didn't eat. Didi made dinner reservations for 9 pm following the race.
Getting to the Start Line
Most of us were staying at the Venetian. The start line was by Planet Hollywood about .7 miles from our hotel. After a nice relaxing brunch at the Venetian, eight of us who were running made our way through the crowded streets of Vegas and went up a ramp to catch a monorail. From the monorail, we had to walk about another quarter mile to the start area. At that point, my knee was bothering me. I went to the Biofreeze booth and stretched out. There, I applied Biofreeze to my knee and hamstring.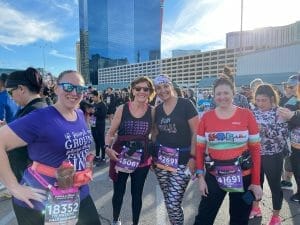 We waited for a while before our colors were called. I was actually in the first section but stayed back to run with Janeth, another member of my group. We had been running together every Sunday with the group for the past year or so, so I felt comfortable running with her.
Two of our members took off in an earlier group. When the "orange" group was called, Janeth and I lined up. Since the rest of our group were in the Brown group, they stayed back.
The orange group was asked to walk through the gate and we had to walk a good half mile or more to the actual start line.
At that point, I was hurting.
At the start of the Race
We lined up, one behind each other. The horn went off and we ran through the start gate down Las Vegas Boulevard. We ran past stores with a camera so that the folks at home could watch. Janeth's husband and son saw us. I was excited for her! Then we ran past an airport with private jets and helicopters.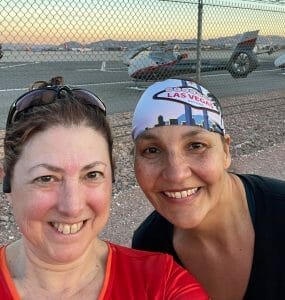 The race had lots of entertainment on the course. Most of the bands played classic rock songs.
Once we got out of town and past the airports, there was a turnaround. We made a U-turn and as we approached the "Welcome to Las Vegas" sign, we took a photo.
We watched the sunset on the horizon. It was magnificent.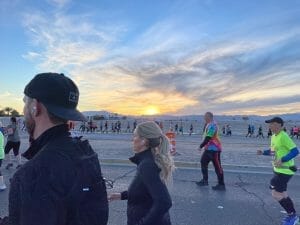 Quickly after that, we entered the strip. Wow, that was incredible. Las Vegas belonged to the runners! It was amazing to pass by all of the hotels, billboards, casinos, and smoke shops.
Janeth took lots of photos. I was having a hard time getting my camera out of my pouch so I took fewer photos. (But I got a few good ones!)
It was an awesome experience running the strip, especially once the sun went down. There was really something special about this race that I only once experienced when I ran the NYC Half and ran down 42nd street.
Although I was in a lot of pain during the race, I didn't want to talk about it. I wanted to experience this and I wanted this race to be a strong comeback for me after meniscus surgery.
When we crossed the finish line
When Janeth and I crossed the finish line, we were both thrilled and grateful to have done the race together. We snapped a couple more photos but by that time, my knee stopped working. It was so swollen I was having a hard time walking.
We went over to the medical tent and they gave me some ice. Actually, they wrapped the ice around my leg over my pants with tape but it didn't take long before it slipped down my leg.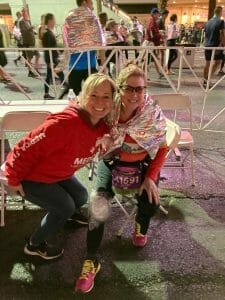 That's when the medic said, "let me spray you with Biofreeze." It really felt a lot better with the Biofreeze. It almost numbed the pain. But I still couldn't walk.
It was a significantly long walk from the finish line to the bag check. I had my jacket and sneakers in the bag. Janeth offered to get it and I took her up on that. I sat on the edge of the curb with Merril, who had finished the race a few moments before us.
Hurting badly, I was holding back the tears. I asked a worker if he could find someone to take me back to the hotel. But everyone was so busy. There were more than 30,000 runners there.
What happened next
At that point, I was hurting badly. The rest of our party, Colleen, Didi, Laura, Cathleen, found us. I went into one of the kiosks where they were selling race memorabilia and asked the manager to call the medics to help me get to the hotel. But after a half-hour or so, Cathleen told me she saw a shortcut to the Bellagio. If we were able to make it there, I could get a cab back to the Venetian.
We waited in line. Finally, a cab came and when I told him where I was going, he said, "no I can't take you. All the roads are closed. If you pay me $40 I can take you." I said I would go.
Cathleen and I hugged and the taxi took about an hour to get back to the Venetian. There, I was greeted with a wheelchair, which I happily got into.  There was no way I could walk another inch up to my room, and my room wasn't that close!
After drawing a bath, I got my huge knee in and sat there. I felt as if I could fall asleep, but I didn't let myself do that.
I took some pain medication and tried to sleep. Tossing and turning all night because of the pain, I got up early and had in-room dining. (I never do that because it's ridiculously expensive but I didn't want to walk.)
Thankfully, the next day, I felt a lot better
Danielle texted me that she was going to come to my hotel room. She did and we sat and chatted for a while about her race and what happened to me. She then walked me downstairs and helped me with my luggage into a taxi to go back to the airport.
I was so grateful to her and to all of the runners in my group. They are an amazing group of people and I am so blessed to have each of them in my life.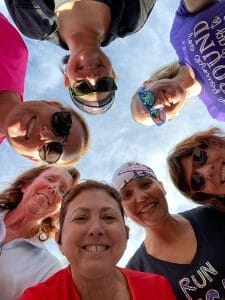 As for the Rock 'n Roll Vegas, it was a total blast. I would highly recommend it to my readers, but just beware, there is so much walking in Vegas and if you do the 10K, you really did nearly ten miles and if you do the half marathon, you really did close to sixteen miles. Otherwise, an amazing experience will be had!