Recently, I caught up with Friederike Edelmann and asked her the following for the Faces of Endurance column:
Why did you decide to start triathlon training? What was your why?
After moving to East Coast in 2005, I had been running for a couple of years to just stay in shape, then ran my first NYC half, and less than three months later my first NYC marathon. I only took a few days off after the race and started training again but experienced severe knee pain.
Turned out I was diagnosed with IT band syndrome and was told to cross train, like swim, bike, and strength train. A few days later, a friend of mine asked me to join her for a sprint triathlon, which covered pretty much what I was prescribed to do. All I needed was a better bike, as my 20-year-old NYC commuter bike wouldn't do it… I loved everything about the sport: the camaraderie, the competition, and the joy of crossing the finish line. Of course, it didn't hurt that I came in second in my age group…
What year did you start?
So that must have been in 2009.
 Were you athletic growing up? If so, what sports did you play?
Yes, I was a competitive swimmer growing up, and I continued swimming as a Master, but on and off. I am also an avid skier, and snowboarder
What was your favorite race or your greatest achievement? (Could be running or Tri.)
Getting through lightning and thunder, freezing while being stopped for over 30 min at Ironman Texas in 2016, and qualifying for the IM world championships in Kona for the first time.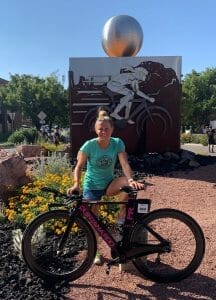 What were some of the challenges you faced and how did you overcome them?
My biggest challenges are trying to manage my crazy work schedule that comes with a lot of mostly domestic business travel, investor and industry conferences, non-deal roadshows, quarterly earnings, and unforeseen events requiring you to adjust your training and race schedule, often very last minute.
What are your plans for the year?
This year I have 70.3 Santa Cruz, Chicago Marathon, and IM California left, after already racing IM WC St. George, 70.3 Mont Tremblant, a few trail races, and century rides earlier this year.
Tell me about yourself. Are you married? Children? Ages? What do you do for a living?
I am a VP of Investor Relations at Central Garden & Pet with headquarters in the East Bay of California and a proud pet parent of two giant fluffy cats.