A few weeks ago, several members of Team Galloway LI drove nearly three hours to Rhinebeck, NY to run the Fall Foliage Half Marathon. It was a magnificent drive. There was some traffic, but the foliage (and the event) made up for all of that! It was simply gorgeous.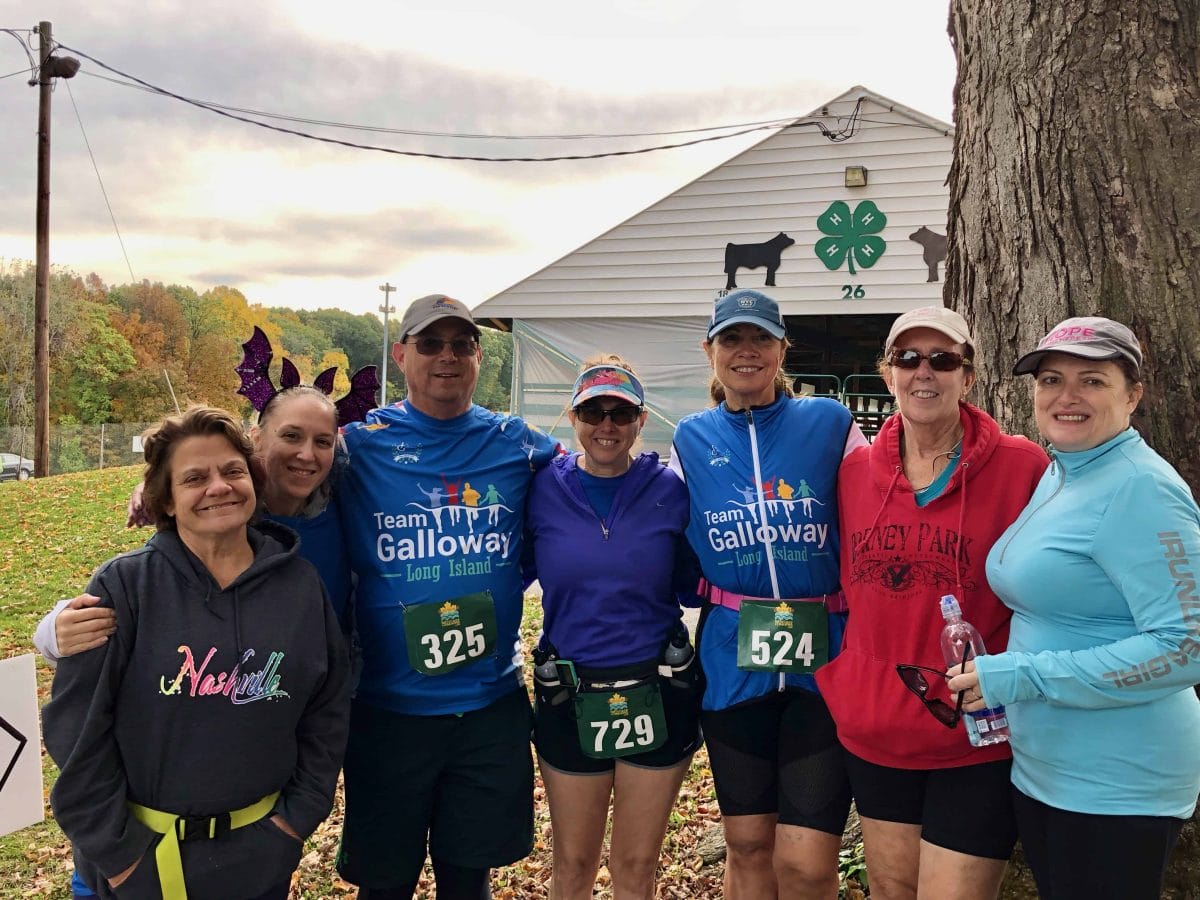 Here's my race experience:
My teammates and I had been preparing for this race for nearly six months. We knew it would be hilly and tried conquering some of Long Island's finest. Although we tried, some of us still felt we should have pushed on more hills. Whatever the case, we got there as prepared as we could be.
In Jeff Galloway's program, we run 14+ miles prior to the half marathon. So, every week toward the end, we went up a couple of miles and ran as a group at some of the nicest parks around.
On the Drive to Rhinebeck
On our way up to Rhinebeck, Colleen and I chatted non-stop for three hours. It was so nice to catch up with her. As we chatted, we got text messages from Dawn saying that she would pick up our numbers. We had a sigh of relief because traffic was ridiculous.
Once we got to the Best Western in Kingston, we unpacked and texted all the women who were there. We settled in for a few minutes and then headed over to meet the rest of the gang at Stella's restaurant in Kingston.
The town of Kingston is adorable. They had the cutest shops but we were on a mission to eat pasta, go to bed early and wake up refreshed for the Fall Foliage Half Marathon.
At the Fall Foliage Half Marathon
After having a "free" breakfast at the Best Western, we followed each other to the Dutchess County Fairgrounds in Rhinebeck, where the Fall Foliage Half Marathon was going to start.
Once there, Christine, Christopher, Dawn, Danielle, Kathleen, Mark, Colleen and I met up with Joanne, Bill, and Jon, who drove in from Long Island that morning for the race. It was so nice to see everyone. We were all excited.
The race started promptly at 10 am and we were off. The first mile didn't seem bad at all. I started out gently and ran an easy 11-min/mile pace. Then I started to use the run/walk method and the next two miles, I continued in the 11's. I kept thinking, "this is not bad at all!" There were some easy downhills and life was wonderful. I made it my business to enjoy the scenery. It was so gorgeous there and I was in my "happy place."
At every mile, I could see Joanne ahead of me. She was too far ahead to catch up, so I stayed back. At mile 4, Joanne started to slow down and I caught up. She wanted me to catch up so that we could take the rest of the half together. I was still in my "happy place."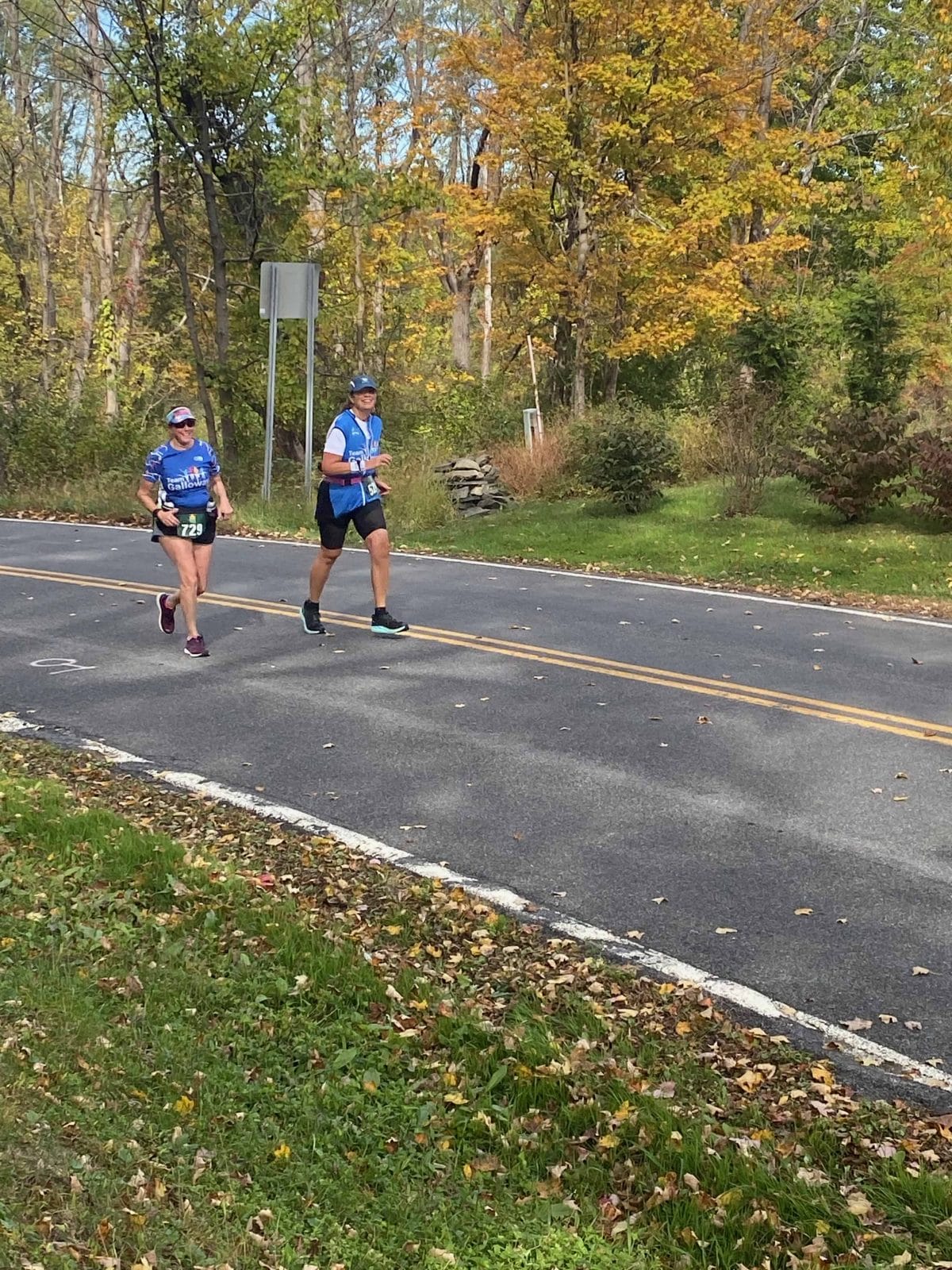 At about mile 6, the course started to change. There were lots of steep uphills and downhills. At around mile 7 or 8, we started to see people coming back. "How far out are we?" I asked a couple running in the opposite direction.
"You're about a 1.5 to the turnaround," the woman shouted.
Joanne and I saw Bill and we ran together for about a half-mile to a mile. Bill was taking it faster than I thought he would since the NYC Marathon, an event he'd been training for, at the time of the race, was just less than a month out. He passed us on the uphill and he was gone.
The course was tough. It was probably the toughest I've ever done. The hills were steep. But, as tough as it was, it was the most beautiful course I've ever done!
It was incredible to see Danielle, Mark, and Christopher on the course cheering us on. They showed up just as we all needed them most and then they ended up at the finish line, cheering everyone in!
Although I lost my "happy place" on the uphills, I got it back on the downhills. Joanne and I just talked, laughed and enjoyed the beauty of Rhinebeck!
Jon was the first in, followed by Bill. The rest of us came in after that. It was awesome to see Dawn exceed her goal and Christine get a 10 minute PR on such a hard course.
I was so excited to hear that Joanne placed second in her age group! Amazing accomplishment!
Jon and Bill killed it. They sliced through the course as if it were a breeze.
After the race
After the race, we decompressed by going to a local diner to eat breakfast. I was starving!!!! We talked about the course and laughed throughout breakfast. What an amazing course and a fun time!
I would highly recommend this race to anyone who wants a little challenge and to experience the beauty of fall! I loved this race and look forward to doing it again in the future!