Most of the races have been canceled or postponed through June, but I suspect that they will be canceled through the end of the year. If we get a vaccine against COVID-19, then there will perhaps be races. So, how do we get the motivation to keep going during COVID-19?
EventPower LI
All race companies are changing their races to virtual races instead of in-person. For example, EventPower LI just changed their Mighty North Fork Triathlon to a virtual triathlon. I was signed up for this race.
What's interesting about EventPower LI as opposed to many of the other race companies is that you have two options. Participate in a virtual duathlon – Run 2 miles, Bike 7 miles then Run a 5K and you need to do this anytime between May 25 and May 31. Results are submitted to EventPower and you will receive a finishers medal, t-shirt, goodie bag, and 30% off next year's race! That's incredible! In addition to that, the company is providing visors and socks to participants. If that wasn't incredible, they are also entering all racers in a host of very cool prizes.
The other option is to defer your entry to either 2021 or 2022.
Other race companies have done other similar type events. I've even noticed that Ironman is hosting virtual duathlons with their cool new website.
Virtual Races Aren't the Same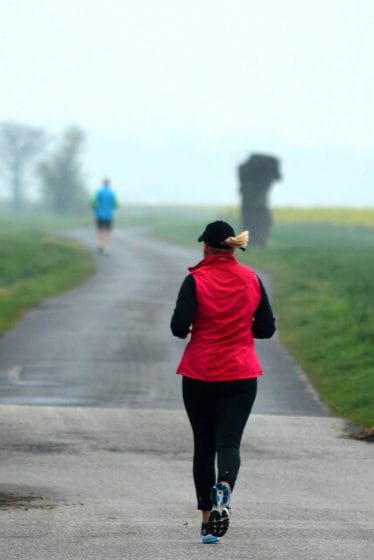 Yes, I know virtual races aren't the same but they will help you with speed training. We are always racing against ourselves, even when we are racing in real-time. So, why should virtual races be any different?
To me, it's important to keep the training up. If I had my choice, I prefer to race in person. But, if I can't have that, a virtual race is the next best thing.
Virtual Team Races
Many of the triathlon teams and running clubs are organizing small scale virtual races to motivate their members. It's a great idea, especially if you need a "race" to help keep you motivated.
Training for 2021
Perhaps this year is just a year to train. One of my running group members said, "2021 will be the year of the PR." He is right. If we keep pushing this year, we can make great strides in 2021.
Julie Moss Said…
If you participate in virtual races or you don't, it's important to keep moving forward. I recently interviewed Julie Moss, who is a famous triathlete best known for her "crawl" across the finish line in 1982 in Kona. Julie said, that "if you are training for a half ironman or an Ironman, it's good to give yourself two years to prepare." She said that we should think of this time as a time to get stronger and focus on all three sports but also strength and flexibility. "It will pay off," she said.
I think Julie is right… Hang in there, we are all in the same boat!