Having read through a few race reports posted by other finishers of the 2018 Ironman Canada course, I feel bolstered to stand my ground with my description of the race being a battleground of survival. Because of illness in the taper weeks before race day on July 29, I surprised myself and pretty much everyone who was tracking me when I stepped out on the marathon at 5:03pm, and the air temperature was still around 92 Fahrenheit (34C).

When I signed up for Ironman Canada back in November 2017, the course had been rumored to change from an already aggressive elevation profile. Like innocent lambs, veterans and newbies alike were shocked to find out that the bike course would become three loops with an elevation gain of over 8400 feet. It is now touted as the highest amount of elevation gain in an Ironman race, making Ironman Canada one of the top 10 most difficult Ironman courses.  Additionally, the run course was slightly changed to accommodate the baby frog migration from one of the lakes, adding an out-and-back trail section that while not particularly steep, posed a challenge to Ironman participants used to road running, as evidenced by by people tripping and falling, and some bloody knees. The 2.4 mile double loop swim stayed the same, leaving Rainbow Park into clear and clean lake water surrounded by pretty mountains dusted with snow.

Throughout winter to spring, I worked with my Coach, Michael Covey of ultramcendurance.com, to train smart and build the kind of body that could take on the bike elevation and have some leg left over for a marathon. And that meant biking from Pai'a to Haleakala on Maui, climbing Mt. Lemmon in Tucson, and doing multiple century rides with aggressive elevation profiles in the Seattle area, followed by brick runs with a lot of, "Shut up, Legs, and run!" self-coaching moments. I also lifted weights with a lot of emphasis on stability, core strength, and putting on five pounds of muscle in the legs. Can you say Squat Master?

As the days got closer to the race, I found out that all my training in high heat in the Tucson desert was about to be tested. Whistler BC weather is usually mountain weather, with cool mornings and evenings, and a high between 75-80F during the day. This year, Whistler was experiencing an extended heat wave, and to everyone's dismay, it looked like race day was going to be the hottest of all.

My plans to camp during the week of the race were ditched for hotel suite with A/C so that I could keep my body temperature under control while I recovered from illness, and right up until the Friday before the race, I wasn't even sure I could race at all. I slept and rested most of Friday and Saturday before the race, and if I had to go outside for anything, I placed a towel soaked in cold water over my head and shoulders. Yes, it was THAT hot outside!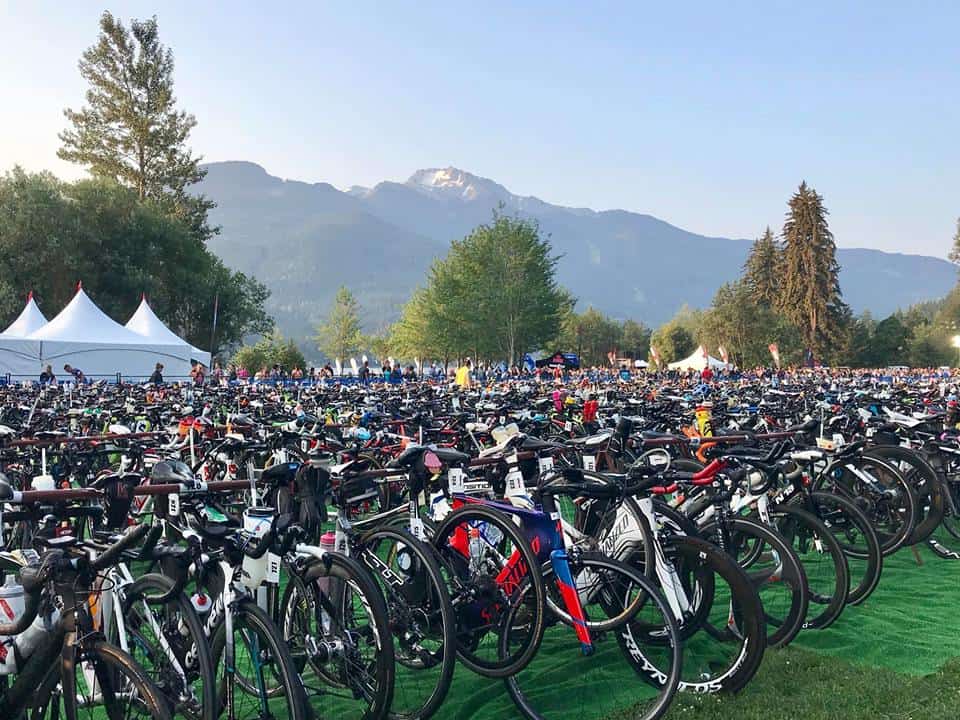 Race morning, I arrived in T2 around 4:30AM, to drop off food into my run gear bag and drop of Special Needs bags for both bike and run. Because of the bear population in the area, athletes were instructed to wait until Race Day morning to put food on their bikes and in their bags. We then boarded shuttle buses out to Rainbow Park where our bikes were checked into T1, as were our bike gear bags. I put on my wetsuit, nibbled the rest of my breakfast, and got in line for the self-seeded swim start.

My plan was pretty simple. I had been sick for too many days, without enough time to recover properly. The plan was to finish the swim, get on the bike course, and then DNF myself on the bike course at any one of the completion of Loops 1, 2, or 3, to prevent myself from ending up in need of medical attention in a hospital. My husband told me he'd be tracking me and watching me. Because of the high heat index, we both believed I had a slim chance of feeling well enough to run, but if I did make it to the marathon event, neither of us thought I'd make it much further than a half marathon at best. My registration had been paid long ago. I figured I might as well toe the start line, and let the day unfold.

The canon went off, and I was in the water at 6:23AM (pros started at 5:50AM), an early start because course marshalls needed everyone off the bike course earlier than usual. I got punched three times in the head, clobbered by the pros and fast AG groups on their second loop, and then completely swamped by the 70.3 competitors who entered the swim approximately an hour after I started my swim on the double looped swim course. A sold out race made for a crowded venue. For the first time in six seasons of triathlon racing, I actually found myself kicking, punching,  and pushing my way out of a mass of swimmers, some panicking with bizarre swim strokes as they too were just trying not be swum over. I can't wait to see the drone camera footage! One of the highlights of this swim was a moment where I switch my stroke to sidestroke – backstroke – sidestroke around the turn buoy, and saw the snow on the mountains and the sun reflecting off water droplets from my hand. I was surrounded by hundreds of tiny rainbows!

As the 70.3 racers exited after their single loop, the course opened up a bit, and I had a calm and steady swim to the exit, where I was delighted to drop to the ground and have wetsuit strippers remove my wetsuit and hand it to me. I discovered that the neckline of my wetsuit had torn during the swim, and my neck now had an ugly and painful chafe mark. I waddled over to my bike gear bag, picked it up, and ran into the change tent. On the way to the tent, I saw a man fall over his bag, still dizzy from the swim. He was laughing and totally fine.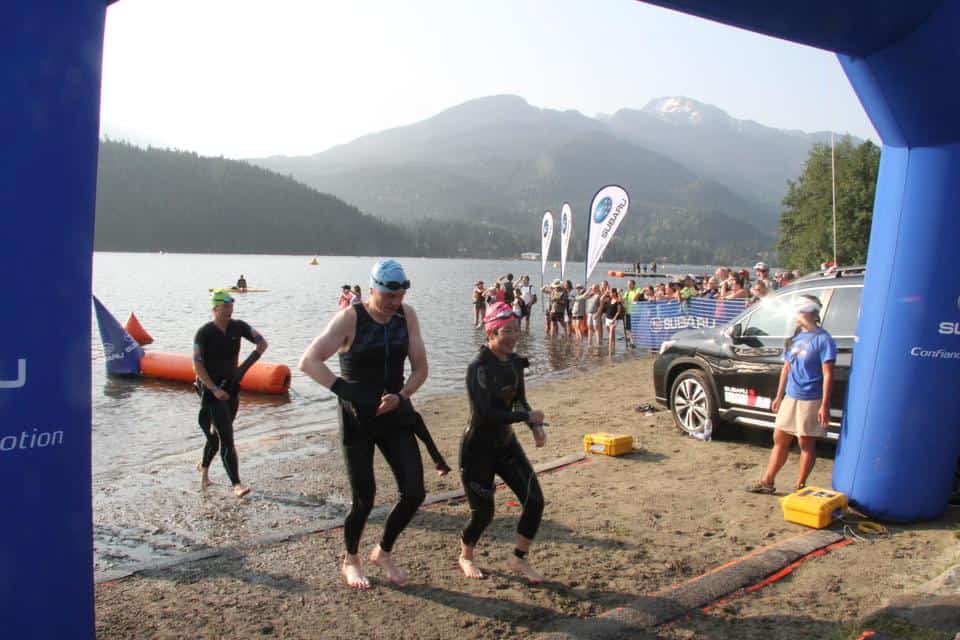 This year's race had only 23% women in the full distance. The women were clumped in the far corner of T1, about as far away from the Bike Out arch as you could be. I did not complain. Being a slower swimmer who wasn't even trying to go out hard because she was going to DNF the bike, it was super easy to find my bike, one of few remaining on the rack. I took my time in T1 to put on an ice shirt that holds moisture against your body and keeps you cool, chill sleeves, and tied on a tea towel around my neck, tucking the ends into the front of my jersey.

By throwing water over my head, neck, tea towel, shoulders, and putting ice down my shirt and in the shorts, I found myself surviving not only Loops 1 and 2, but eventually making it on Loop 3 without succumbing to the heat. Each loop was comprised of a fast downhill stretch on Hwy 99 to a climb of two miles up Callaghan to a turn around, a fast descent back down to the highway, a long climb out with some rollers that felt like you were still climbing downhill, and a section of rough roads and climbs through Alta Lake to a turnaround at Stonebridge Drive. On the third Loop, I ran out of water on one section and found myself climbing Callaghan with nothing but a bit of water that had heated up in my Speedfil. I cannot tell you how relieved I was to hit the Aid Station on that stretch, where volunteers helped cool me off with water scooped up from a kiddie pool filled with ice! It was a little piece of heaven.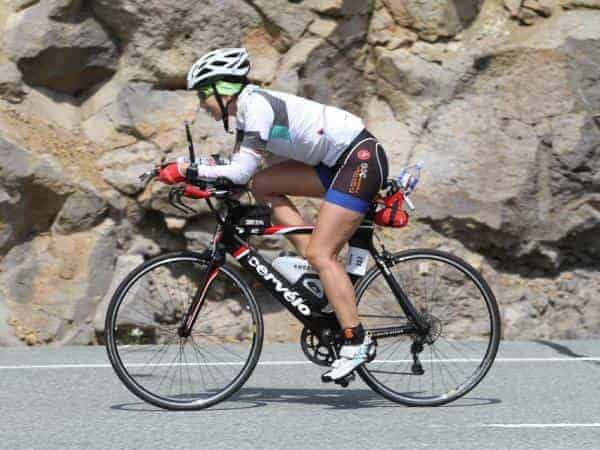 By that time, the course was pretty empty. I cycled past a lot of hurting people, some walking their bikes, others sitting by the roadside, vomiting or resting because of heat exhaustion. The wail of ambulances could be heard on occasion. And I just missed one of many bear crossings (the bear crossed behind me!) that were reported that day. On Alta Lake Road, a Bike Official on a moped road up to me and told me to keep going and to not stop, because I was only five minutes in front of the bike cutoff! I would later find out that the people just behind me were stopped from racing.

I rode into T2 in the Whistler Olympic Village, my mouth open in surprise as I threw my bike to a volunteer with the words, "So long, bike! Good-bye!" and ran into T2 with my Run Gear bag. Two volunteers treated me like I was in the Indy 500 on a pitstop: "OK, we have 10 minutes to get you out on the run course!' and they stripped off my clothes, dropped me into a fresh shirt, shorts, and socks, and the next thing you know, I am hearing the loud, "Beep!" of the timing mat as my chip crosses over it. Holy Guacamole,  I'm on the marathon course!

As a Celiac athlete with Food Allergies, I had planned all my nutrition and special beverages to be picked up at Special Needs and carried the entire marathon distance until it was finished. It's the safest way for me to participate, but it does leave me feeling like I am my own Food Truck. This race only allowed one access of the bag; the second pass would not have the bags available. I sipped Real-sugar Pepsi and nibbled gluten free rice crackers, and picked up ice that I placed in a bike bottle. I used the bottle to hold against my neck, under the armpits, or in one hand or the other to beat the 90F heat that was pan-searing me from above and below from the asphalt. The sense of suffering in the heat only backed off around 9pm, when the sun was going down.

As I ran towards one of the final timing mats to make a hard cut off, I was running in the dark with my headlamp on. I heard a voice on a megaphone, "If you're out there, give it all you have. You have ten minutes!"  That is when I turned up the heat and just ran my little heart out, making the cut off with five minutes to spare, and running back up the hill along the lake towards the village and the finish line, like my pants were on fire. At this point, my Garmin watch battery died, and with just four more miles to go, I ran by feel, occasionally asking someone along the way what time it was.

I love and I hate the last two miles. You can hear the cheers from the Finisher's chute, the announcer calling the names of each person and declaring them an Ironman. You are so close, but you are not finished. I think it's there, in those last few minutes, where the Ironman of your choosing, under the conditions of the day, help you encounter yourself. How will you finish this? All I know is that for me, under the brutal conditions of the day, I ran across the finish line of Ironman Canada with the biggest smile, filled with joy and with light, oblivious for one moment of time to all the pain and suffering and self-doubt that had preceded it. I would have ugly cried at the end if I hadn't been so dehydrated; I could not produce a tear if it meant my life! The crowd at the finish line were dancing, cheering, and screaming as each of us hurtled ourselves with what we had left until we heard the final timing mat and those words, "You… Are… an Ironman!"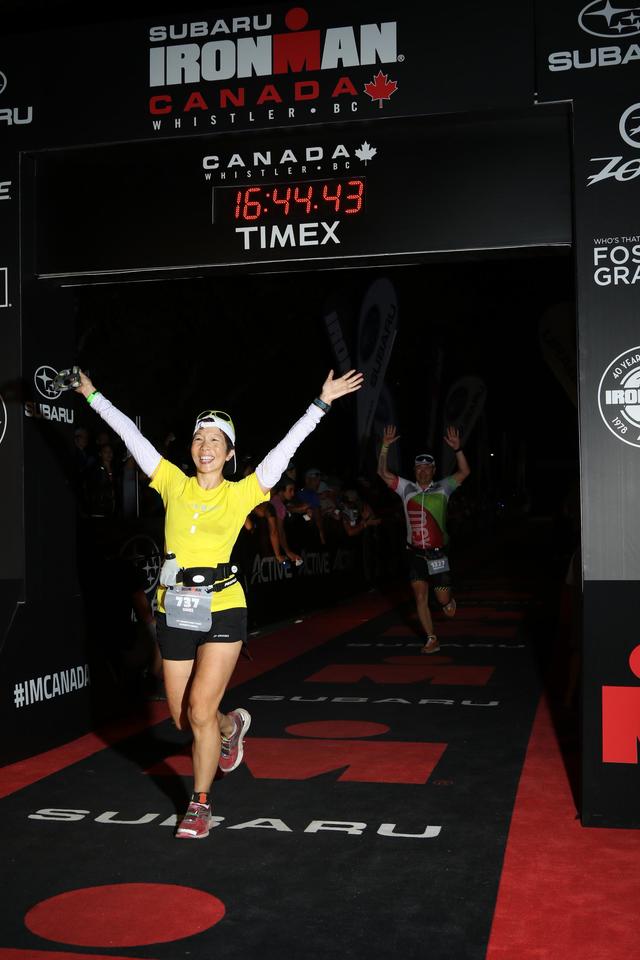 As I lay with my legs propped up on a box, an IV drip of normal saline in my vein in the Medical Tent after the race was finished, I turned to the side and looked at my finisher's medal that lay on a chair. Ironman Canada, what an adventure! I do not know if I'm coming back again, but I can say this — bragging rights, forever!
The difficult part of seeing is setting aside what you're sure you already know. 
[Seth Godin]
About the guest blogger — B. Imei Hsu, Active-Retired RN, MAC, LMHC, RYTChief Food Concierge and Fun Advisor; Google voice 425-200-5271; imei hsuabout.me/ImeiHsu
SeattleDirectCounseling.com
Making food fun again at MyAllergyAdvocate.com