I had signed up for the 2020 Mermaid Swim in Boca. For obvious reasons, it was postponed. In 2021, they held the event, but I asked for a deferral. I didn't feel comfortable traveling at that time. The organizers were gracious and allowed me to defer.
Book Tour and the Event in Boca
I figured I would tie the book tour into the event. My book was released on August 1 and the Mermaid Swim was on August 7. Perfect timing. We booked a tour at the Barnes & Noble in Boca on Saturday and the Swim was Sunday. What could be better?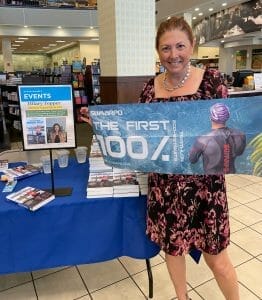 Little Caveat…
I had pneumonia. I actually got pneumonia when I came back from overseas. So, first I got Covid in June, then Rebound Covid, then went to Israel, and came home with pneumonia.
Not the best timing for a race!
The Mermaid Swim in Boca
I was planning on doing a 2-mile ocean swim. What I didn't think about was that in July and August, it was the rainy season in Florida and it was the beginning of hurricane season.
I remember going to Ft. Lauderdale in August thinking that the water was incredibly rough but thought it may just be a fluke. It wasn't. It's mostly rough in August and throughout hurricane season. But there are days when it is flat and wonderful. I hoped that Sunday would be that way.
Unfortunately, it wasn't.
Getting to the Mermaid Swim Race Site
Andrea drove me to the race site. "I'm going to run three miles and Jacob is going to walk," she told me.
I went over to body marking and since I saw the water and the strong tide, I told them I was dropping down to a 1-mile swim.
"Oh, everyone is doing that," the woman behind the desk told me. I gave her a raffle prize (a signed copy of my book).
I got body marked and walked down to the water.
Once there, I looked at the water. "Ummmm… should I be doing this?" I thought to myself.
I put on the multicolored bathing cap that they gave me at check-in, put on my ear plugs and nose plugs, and walked into the water. It was warm, very warm.
But the waves were ridiculous. They were about four feet high and went all the way out to the buoys. Usually, during ocean swims, you swim past the breaks in the waves and although it may be a little choppy, it's fun to go up and down in the water.
This swim wasn't going to be fun. This was going to be hard. I would need all my strength to do this one.
I walked into the water and got immediately pushed down by a big wave. I stood up and kept walking toward the buoy. As I tried to get out further, I found myself finding it very difficult to just get to the buoy. I came in.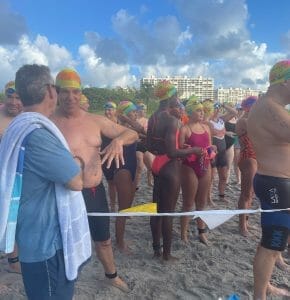 Standing on the shore
As I stood there, I thought about what was going on. Can I do this today? I'm not feeling 100 percent with this pneumonia, I thought. My breathing isn't great. What should I do?
I was hearing people around me saying they were dropping to a half-mile swim. I didn't know if I could do that. But I decided to get out of it altogether.
I felt disappointed but I knew it was the right decision for me at that moment. There will be other swims, I told myself. And besides, I really want to do that swim to the moon in Ann Arbor in two weeks. Will I be ready to do a 5K swim?
Rough few months
It's been very rough for me the last few months and I've been depressed. Between my meniscus surgery almost a year ago that is still bothering me, my headaches, COVID, Rebound COVID, then pneumonia, I feel like I've been a mess. No wonder why my Inside Tracker said I'm 65 years old inner age!
I need to change this. But I wasn't going to change it that day. I needed to focus on myself. And, I needed not to do this race, even though I had Andrea and Jacob there to see me swim.
I handed in my chip. This was the first time I had ever done that, and it didn't feel good. It felt lousy!
Texting Andrea
I texted her that I was not going in. When I saw her moments later, she said, "you can drop down to the ½ mile." I didn't want to.
I really wanted two miles, but I knew it would be rough. I wished I felt 100 percent to try to do it, but I didn't. So, I DNS (Did not start).
When Jacob ended his walk, he said to me, "I'm glad you didn't do it. There were a lot of rip tides out there and as you told me you don't know how to handle that."
He was right.
Getting text messages about the Mermaid Swim
My coach, my training buddies, and my family texted me and told me it was a smart decision to follow my instincts. I was glad they were supportive. I needed that support.
It didn't feel good, but it was the right decision for me.
Here's what it actually looked like: https://youtube.com/shorts/WjVFy_11HLY?feature=share
The Mermaid Swim in Boca
The organizers did a great job with this swim. They had sponsor booths around and they gave out leis to the finishers. Hey, there's always next year!
And…
I flew home that evening and the next morning, I was determined to get in a swim so I went to Tobay and swam for an hour. It was wonderful. No one was there. It was peaceful, except for the birds chirping, the jellyfish, and the low-flying green flies. I wasn't alone.
Although I was a little annoyed with my "new friends (the jellyfish, green flies, and birds)," I tried to embrace the situation and just enjoy the moment. And you know what, I wore my multi-colored Mermaid Swim cap and felt a little better!
If you want to sign up for the Mermaid Swim, here's the website: https://runsignup.com/Race/FL/BocaRaton/MermaidOpenWaterSwim.