Get 15% off with a code at bottom of the post!
I love the Sumarpo wetsuits. I have a few and each serves a purpose. The Vanguard is the thickest one and great for when the water is cool. I wore this one through October in the Northeast. The Race Suit is slightly thinner. It has 4mm of Neoprene as opposed to the Vanguard, which has 5mm. I recently had the opportunity to check out their thinnest wetsuit, which has less neoprene than its counterparts. I was gifted the suit in exchange for an honest review.
What's interesting about this particular wetsuit, which is called the N-Joy, is it has neoprene where you need it most. For example, see below:
● Chest: 4mm
● Back: 2mm/3mm
● Arms: 1.5mm
● Upper legs: 4mm
● Lower legs: 3mm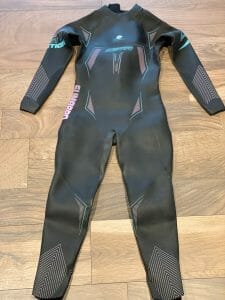 N-Joy Wetsuit
In addition to having neoprene in various places that you need in the open water, the neoprene is Yamamoto SCS. It's like its sister/brother suits in that it has engineered groove shape paddles, quick-release ankle panels, and it uses eco-based and safety materials. There's also a 2-year warranty.
The price of this wetsuit is only $179.99 and I only wish that when I started triathlons, I knew about this company. I mean, I spent so much on wetsuits, it was nuts! All of the Sumarpo wetsuits work amazing. They are so comfortable and reasonably priced.
Sizing
One of the areas that a lot of people have issues with is sizing. The Sumarpo wetsuits are true to size. I have been wearing a Large. But if you go on the Sumarpo website, you will see a sizing chart there that is pretty thorough. They recommend that you choose the smaller one if you are between sizes. The wetsuit should feel tight on dry land. In the water, it will loosen up, I promise! If for any reason, you need a different size, the company has a 30-day policy and will take it back and give you a new size.
My Experience
I found the wetsuit easy to put on and take off. I haven't used this one yet in the open water, but I plan to all summer long. I love the material that is used. It's so soft and comfortable on my skin.
I can't wait to use this during my long training and even at my marathon swim in August!
As the season gets underway, I'll update this blog with my thoughts on using the N-Joy during some open water swims. I'll keep you posted!
Go to Sumarpo.com and use my discount code, Hilary15, you can get 15% off! Happy swimming!