I was introduced to Sumarpo on Instagram. The company's marketing person reached out to me and asked me to review the women's Vanguard 5.0mm Yamamoto SCS Wetsuit. After looking at how inexpensive it was, I really didn't think I would like it. But once I tried it, I LOVED IT!
The Sumarpo Race 4.0mm Yamamoto SCS Wetsuit is similar to the Vanguard wetsuit in that it's made from similar materials. The difference, one has 5mm worth of limestone neoprene and the other 4 mm.
All About the Race Wetsuit
The RACE is an affordable wetsuit with slippery lining and excellent flexibility. These outstanding features will provide you with a better underwater experience.
The suit is flexible and has excellent buoyancy, with 30% more than other brands. It also is environmentally friendly. The neoprene rubber is made of limestone, originally formed 80 million years ago in Hawaii.
Another great feature that I love about this suit is that it's easy to slide into and out of, unlike so many of the other suits I have tried.
The wetsuit has an SCS coating layer over the surface of the Yamamoto neoprene which reduces surface drag. Low resistance makes you swim faster with less consumption of energy in water. Interestingly, due to the 0% water absorption of the SCS, the inner side is always dry and comfortable.
The suit also has a different thickness in spots where you need the buoyancy and less where you don't. You can easily move your shoulders and arms freely in the water.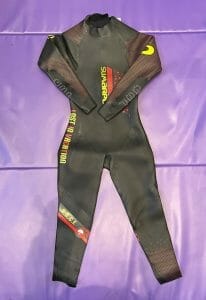 My Take
For me, I've been using no sleeve wetsuits because I felt that my arms couldn't move freely in the water. Once I tried the Sumarpo wetsuits, I couldn't believe the difference. I felt so much flexibility and give. I could freely move my arms and glide through the water. I was amazed.
My training partner laughs at me every time I wore the Vanguard Wetsuit because I kept saying that I love this suit. I can't wait until open water season to try out the Race 4mm Sumarpo Wetsuit!
I absolutely love this brand and I know you will too. Plus, it won't break the bank! The cost of the 4mm wetsuit is $269.99. Go to Sumarpo.com and use my discount code, Hilary15, you can get 15% off! Happy swimming!