Recently, I've been made aware of some interesting new products for runners and triathletes. Here's a roundup:
Raspberry Lemonade Gu
With the introduction of Raspberry Lemonade, Gu has added another great flavor to its family of energy gels. Even better, this new gel contains 450mg of amino acids and 55mg of sodium but no caffeine – making it a great choice for those avoiding stimulants.
Enjoying just 100 calories in each serving, the Raspberry Lemonade gel is thick and gooey which allows you to take just a few tastes at a time. With its sweet raspberry taste paired perfectly with lemonade, you'll be reaching for this delicious and convenient gel every time!
The price is $38.40 for a box of 24 from the website. Here's the link: https://guenergy.com/products/energy-gel?variant=41221147230259
MO Bars
MO Bars offer three great all-natural plant-based options to help with focus, energy, and relief. With two delicious flavors – Berry Coconut and Peanut Butter – these bars will satisfy your taste buds while providing many key benefits.
The Focus Mo Bar contains dates for lasting energy and brain health, Ashwagandha for cognitive performance, Lion's Mane for inflammation and neuron function, and Tumeric for memory and mood.
For extra energy, the MO Energy bar contains Guarana to reduce fatigue and quickly boost energy while keeping you satiated.
To assist in post-workout recovery, the MO Relief bar offers dates for re-nourishment, Kale for metabolism, bone strength, and muscle development, Chamomile for soothing, and Tumeric and ginger for soreness and inflammation. Each bar is 210 calories with WW awarding them 6 points; making them a great meal replacement option!
I love that they are all-natural and don't have preservatives in them. I also like the feeling I get when I take them.
A sampler pack is $15. The website is https://ineedmo.com/.
ActivatedYou Morning Complete
With ActivatedYou, you can enjoy great-tasting prebiotics, probiotics, and green superfoods every day to give you a boost during your workout. Just mix one scoop with water and you'll be good to go! This powder supplement contains ingredients such as organic tapioca fiber and cinnamon bark, spinach, broccoli, kale, mulberry leaf extract, alfalfa leaf, barley grass, berberine HCI, green tea leaf extract, ginger root white tea leaf extract turmeric root extract bitter melon fruit extract black pepper Lycium berry pomegranate fruit extract Polygonum cuspidatum root extract Gymnema sylvestre leaf fennel seed pine bark extract Astragalus root extract Rhodiola roses root extract Aloe Vero Leaf milk thistle seed extract and Probiotic Blend. Available in two delicious flavors – Citrus Medley and Apple Cinnamon – ActivatedYou is an easy way to get a daily dose of all the vitamins and minerals your body needs for optimal performance. Each jar is $49 and well worth it. You can buy your jar here.
Price; $49.
Zurvita All Natural Protein Powder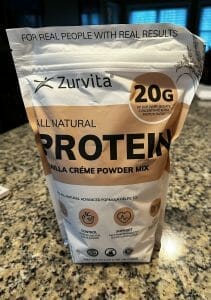 The Zurvita All Natural Protein Powder is a great-tasting supplement that provides 20g of whey protein isolate concentrate and pea protein blend per serving. It also contains 24 vitamins, minerals, and stabilized rice bran as well as prebiotics, 5 billion CFU probiotics, and digestive enzymes that are all packed into only 140 calories per scoop.
Take one scoop and mix in 8 ounces of cold water or milk within an hour after your workout to help aid in muscle recovery. For a nutritious snack or meal replacement, mix it with fruit, veggies or a scoop of ZEAL for maximum benefit.
I absolutely loved the taste of this protein powder. I liked this better than many of the other protein powders. This is one I will buy again.
Price: $56.95