The last time I ran a local race was in 2019. I believe the last race that I did may have been the NYRR Bronx 10 Miler. That was a great race for me. It felt easy and quick. When I finished I was so happy.
As part of the WeREndurance triathlon and running club, we get a certain amount of races that count as club points. The Washington Heights 5K race was one of them. The race sold out quickly but we were still able to get four entries as part of our being a certified team.
Washington Heights 5K Salsa and Shamrock Run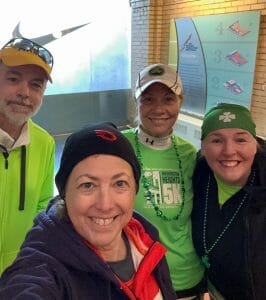 There were a few of us who signed up but only four of us showed up. My triathlon partner, Ray, drove into the city with me. Joanne and Christine met us there. Joanne and Christine were all "Shamrocked" out. They were wearing matching shamrock pants, green shirts, and shamrock necklaces. Ray and I were not dressed up. I wore my WeREndurance hoodie and tech tee.
The two women were coming from the Hamptons and we were coming from Nassau County and we both met up at the parking lot on 168th Street and Broadway. The race started a few blocks away.
After getting our bibs from the Armory, we made our way to the corrals. It was still chilly but much warmer than we all expected. I had a throw-away sweatshirt but ended up putting it in the bag to check with Christine's stuff.
Warm Up
To try to alleviate the chill, we warmed up by running up and down the block that was adjacent to the starting line. I felt good. Ever since I started getting back to running a couple of months before and becoming more consistent, I've been feeling stronger on the run.
After my meniscus surgery, I came back a little too soon and ran a 10K in Vegas with some of my running partners. But after that, I was out for months. I really hurt my knee.
But a couple of months ago, I started to slowly get back into running. I started to run again three days a week.
The Race Start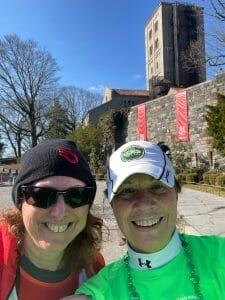 Ray went up to his corral and Joanne, Christine and I started together. Once the race started, Christine took off. Joanne and I stayed together as we did in Kingston when we raced there.
It was wonderful running with her. We got to catch up on those walk breaks and even took a photo in front of the Castle by the Cloisters.
The race was hilly but not terrible. The inclines were bearable. We made up time on the declines. Although we tried to stay with a 1-minute run/30-second walk, it was difficult at times and we just ran.
It felt short. The miles seemed to go by quickly and within 40 minutes, we were done.
After the race
We picked up our tee shirts, collected our bags, and found both Ray and Christine right away. Before heading home, we went for a bagel and went our separate ways.
This was my first local race after COVID and it was a blast. I'm so glad racing is back!