Back in 2015, I met the CEO and some of the staff members of Oofos at The Running Event, when it was held in Chicago. Here's a video from my interview with the team.
Back then, I had a pair of Oofos Flip Flops and wore them to races and after training. They were super comfortable and I believe I still have them!
Fast Forward…
Fast forward three years and I met the team once again. This time at The Running Event in Austin, TX. I was impressed with their growth. When I saw them in Chicago, there were barely five people representing the team. This time, they had a full kiosk with dozens of staff members!
In addition to the company's growth, they also grew their product line to include recovery shoes. The ones I tried were called the Oomg Low Shoe, which is their first fully closed shoe to feature OOfoam technology. They took their OOFOS patented footbed and designed it with a 4-way stretch mesh upper. 
Oofos Oom Low Shoes
The Oofos Oomg Low Shoe comes in three different colors/variations – Black on Black, Black on White, Electric blue and White and Gray on White. 
I tested the Oomg Low Shoe on a few different types of surfaces before I wrote this review. To me, the hardest surface is walking in NYC. Between broken sidewalks, potholes and subway stairs, I was surprised the shoes held up! I was also pleasantly surprised that my achilles didn't ache after a day of walking in the city with these flexible shoes. 
Interestingly, I put on a pair of my favorite recovery sneakers and felt the pulling of my achilles right away. When I put on the Oomg Low Shoes, I didn't find that.
I also was sure that after two days of walking around the city, the shoes would be garbage. They weren't, they held up just fine.
These shoes are perfect for recovery after a long workout on the bike or a long run when your legs are aching and your feet are tired. They also work well with foot or heal injuries like plantas fasciatis.
Why does it work?
For starters, there is a foam bed in every shoe that absorbs the impact. They also have a high arch support, which I found great because I happen to have high arches and it helped alleviate some of the pulling I sometimes feel when I wear my sneakers. ll OOFOS are made from OOFOAM technology, a foam that absorbs 37% more impact than EVA foam found in traditional athletic shoes.
All OOFOS have a patented footbed with a high arch designed to support the foot and relieve stress on the rest of the body.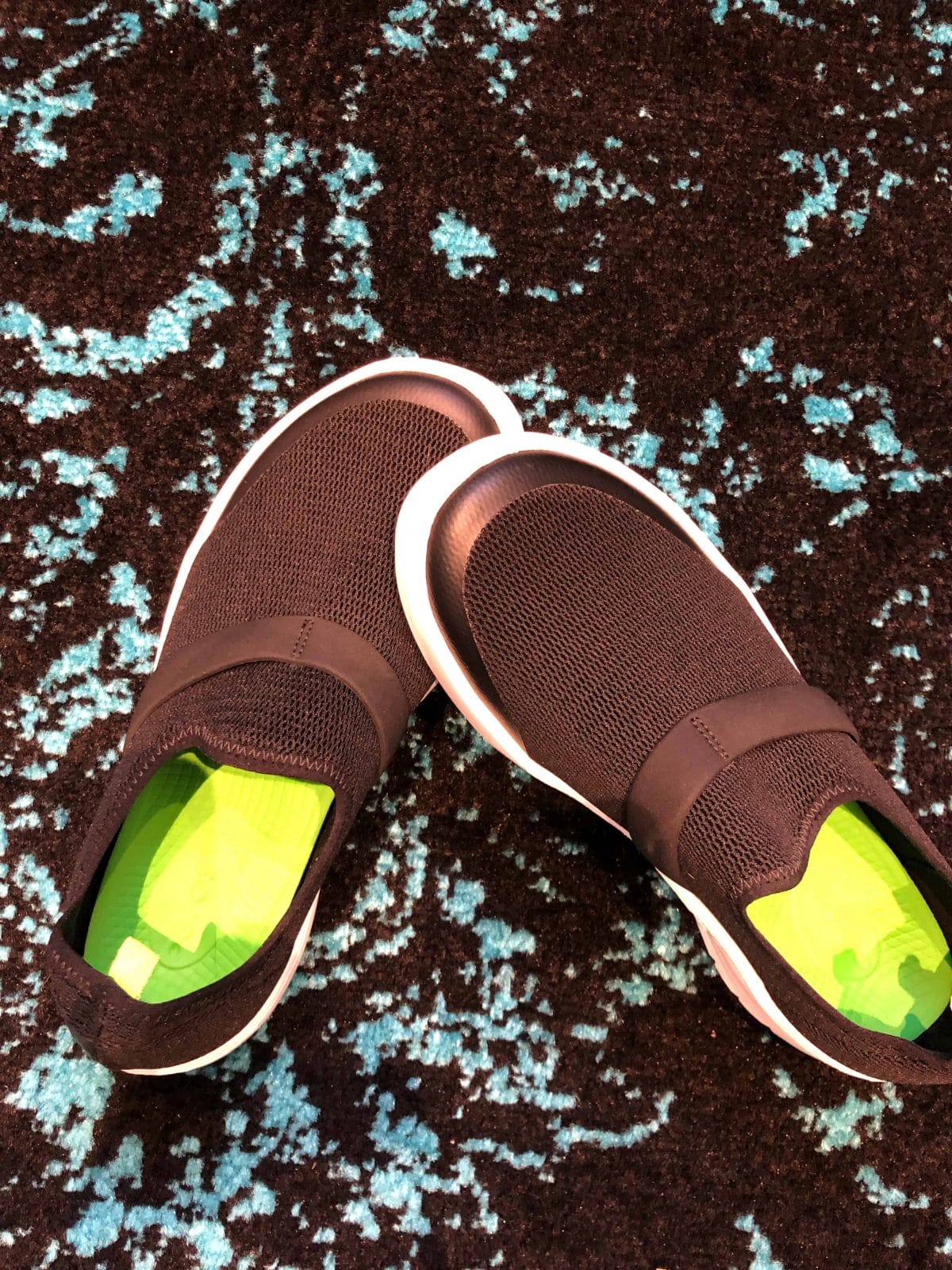 The combination of our OOFOAM technology and patented footbed produces a shoe that reduces demand on the body, making it easier to walk around. Lastly, I found them very easy to walk around.
I also wore them after a day of skiing, and wow, they really helped my legs feel better!
My thoughts…
I loved the look and the feel of these Oomg Low Shoes. I wore them with a pair of black pants, but if I wore them with shorts they would still look super cute. They cost $119 on the website.