In 2018, I ran the NYRR Queens 10K race for the first time, alongside a group of my WeREndurance run/walkers. I recall the day being hot but filled with excitement. Finishing that race in 1:20:15, my average pace was 12:55 per mile.
Fast forward to the present, I recently participated in the same race with a new group of WeREndurance run/walkers, and we had an absolute blast. This time, I completed the course in 1:16, maintaining an average pace of 12:07. Despite struggling during the last two miles, which slowed me down, I still achieved a personal record (PR) for this race, leaving me feeling satisfied.
Navigating to the Race
On race day, Marc, a fellow group member, met me at my house at 6:30 am. Our journey into the city was far from smooth due to unexpected traffic. To add to the confusion, my GPS, which had switched to Japanese since returning from Japan, kept giving directions in Japanese. While Marc initially found it amusing, he soon grew annoyed as I repeatedly checked the screen to decipher our route.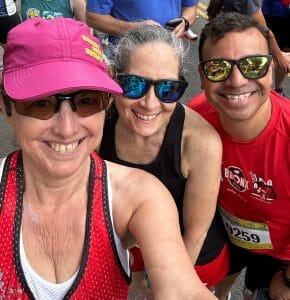 We eventually reached our destination after being diverted to a different exit and navigating our way to the $40 pre-paid parking lot.
The Race Begins
As the race commenced, I stood alongside Jodi, Marc, Monica, Jim, and a few other friends who had gathered there. The moment the horn sounded, our group dispersed, and I lost sight of Jodi and Marc. With the initial bottleneck, I pushed ahead and soon settled into my run/walk intervals of 1-minute running and 30 seconds of walking.
Exploring the Sights of Queens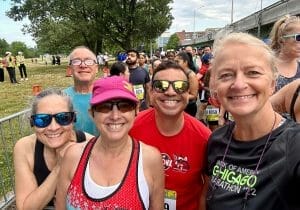 Queens offers a fantastic backdrop for a race. Our route took us past the Queens Museum of Art and the iconic globe, where many runners paused to take photos. I chose not to, fearing it would impact my time.
With numerous water stops along the way, I kept myself cool by pouring water on my head at each one. The heat was intense, causing my heart rate to rise and resulting in two runners collapsing from heat exhaustion. I hope they are okay!
As we approached CitiField, we knew the finish line was near.
Post-Race Recovery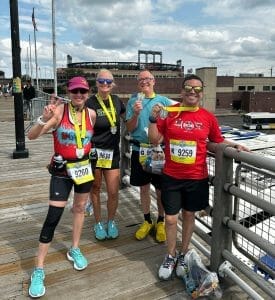 After crossing the finish line and receiving my medal, I grabbed a recovery bag containing grape Gatorade and found a tree to sit under. Feeling dizzy and nauseous, I knew I needed to replenish my electrolytes, so I forced myself to drink the Gatorade despite disliking the flavor.
Once my teammates arrived, I began to feel better. We spent time together, laughing and discussing the race. Many mentioned that it was their slowest race, but I was content with my time, even though the crowded course made it challenging to maintain a consistent pace.
Overall, the Queens 10K was an incredible experience, and I can't wait to do it again!