Races don't always happen at the start of the race. There is always a back story on how you got there and what you did prior to that gets you to the finish.  Whether it's pre-race training, nutrition changes, or mental preparation, the journey to the finish line is just as important as the end result. Hence, my racing to success: running my fastest 10K at the Nashville Rock 'n' Roll series.
Struggling with a knee injury
I had been struggling with my knee for a while now. Surgery was more than a year ago on my meniscus and I came back too quickly. I ran the Rock 'n' Roll Las Vegas a couple of months later, but although it was a fun race, it was a mistake. I ended up re-injuring myself and was out for several months. It took a long time to heal and a few months ago, I started back up.
My coach, Danielle Sullivan, helped me by starting out slow and gradually building up. I was running three days a week and started to finally feel good. I was excited about coming to Nashville.
The Wednesday before the race
I came to Nashville on Wednesday and met my son, Derek, at the airport. He's been living in Nashville for more than a year now.
Thursday morning before he woke up, I did some race preparations like half-mile intervals just to get my legs moving.
Packet Pick Up
Later in the day, I went over to the Rock 'n' Roll Nashville packet pickup, which was held at the Musicians Hall of Fame. It was cool walking into the building and seeing oversized concert tickets lining the hallways.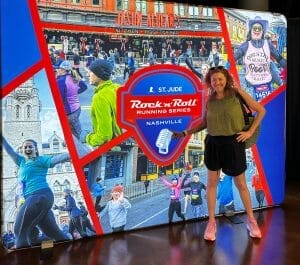 The packet pickup process was easy. RnR had a ton of volunteers who were eager to help. I got my number and then entered the first area with all the clothing you could buy. Lululemon is a relatively new sponsor of the series and had a ton of clothes for sale.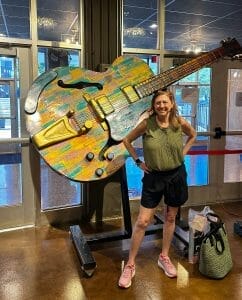 After that, I walked through the health and fitness fair. They had all different types of booths ranging from home improvements to running gear. I noticed someone was doing hair and thought that they were doing some type of race hairdo. So, I decided to give it a try and before I knew it, my curly hair was straight! I ended up buying the straightener.
Day Before the Race
On Friday, the day before the race, my son and I went to Monell's for lunch and then went thrifting around Nashville.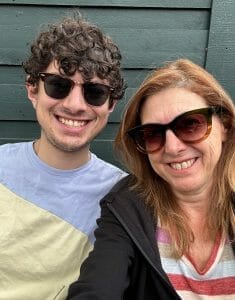 While walking, I drank a lot of water. That evening, we met my teammate and friend, Stephen Albright, and his family at City House, an Italian restaurant in Germantown.
It was an incredible meal and after that, we drove back to the apartment.
Day of the Race
Derek and I woke up early and headed over to the start line. His apartment was only two blocks from the start so it was an easy walk there.
Once we got to the corrals, it was mobbed with people. Both the 5K and 10K started together.
We had 10 minutes to spare so we waited on the side of the corral and then inched our way in.
The race started moments later and off we went. It was such a blast running through the streets of Nashville. Unfortunately, we didn't run down Broadway, which is only a few blocks long, but we did get to see some incredible areas of Nashville. At some point early on, Derek who was running a 5K, and I were split up. I figured I would see him at the finish line.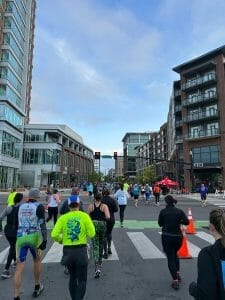 The course was hilly but there were lots of long downhills, which made it a fast course. There were plenty of water stops and musicians throughout the course.
I loved that the race finished at Nisson Stadium where the Titans play. It was such a blast running through the finisher's chute.
Throughout the entire race, I felt strong. I PR'd this race by nearly 3 minutes and finished 25 out of 85 in my age group. I felt good and when I was done I saw Derek. He ran the 5K and looked happy too. We walked across the pedestrian bridge and walked back to his apartment, which was a five-minute walk.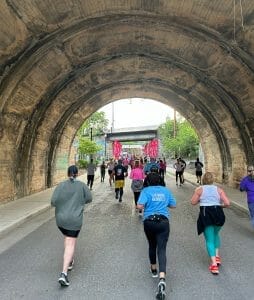 When we got to his apartment, we got on our bathing suits and went to his hot tub, located on the rooftop of his building. What a great way to finish a race! We stayed in there for a while, just talking about our race experiences. It was such a beautiful day and the perfect way to end it.
Grateful for the experience and feeling strong on my runs now, I'm ready to tackle new races and enjoy them even more than before!