The entire EventPower LI team do such a great job organizing incredible races. They never cease to amaze me! The 2nd year Stepping Stone Lighthouse 5K Run was no different. This was one of the best races I ran on Long Island in a long time! The setting was magnificent and the course was challenging. What more do you want from a local Long Island race?
When I woke up in the morning, it was 47 degrees. I decided to wear a pair of shorts and our team Galloway LI tee shirt. Colleen, Merril and I carpooled up to the Stepping Stone Lighthouse 5K Race in Great Neck. The ride was perfect. We enjoyed seeing the gorgeous homes and the fall foliage.
When we got to the race site, we saw Ray, our running partner. He looked like he was freezing. We parked the car, got out and walked to get our bibs. It was great to see Sharon Levy, a friend and physical therapist of Excel PT and Workout. She was volunteering and handing out the bibs.
As soon as we got our numbers, we saw Rebecca, another member of our running group. We chatted for a moment and then walked to the start line.
Terry Bisogno, race announcer, started the Stepping Stone Lighthouse 5K Run.
I still wasn't feeling great from the virus I've had for the last three weeks so I wanted to go out a little easier. I ran a 45/20 run/walk pace. I had thought about going out 60/15 because it was a short race, but I decided at the last minute to go a little easier. 
The Stepping Stone Lighthouse Run course was hilly. The downhills and uphills were long but very doable. We ran alongside a park and through beautiful neighborhoods. The course ended on the downhill into the park and as we crossed the finish line, we could see the lighthouse in the distance. The finish line was right by the Long Island Sound.
The water was calm and there was no wind. I was glad that I ran in a tee-shirt and shorts. This was the perfect weather in which to run. 
The thing that made this race special, in addition to the perfect setting, was that four out of the five of us who ran this race placed in our age groups!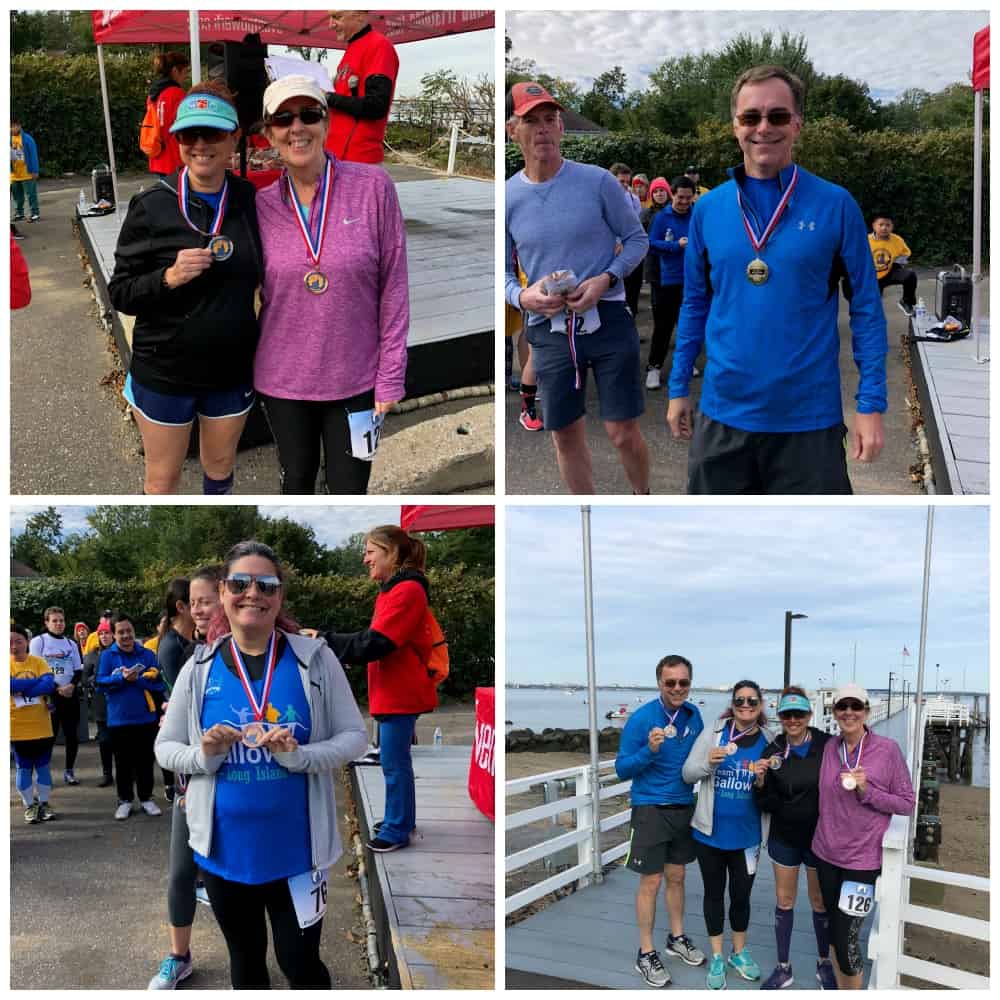 Ray and I placed 2nd, Colleen and Merril placed 3rd.
I was so impressed with Merril, because her age group is highly competitive. (Merril will be running in NYC Marathon in the next couple of weeks. I can't wait to see how she does!)  I was also impressed with Ray for running a 7:37 min/mile! And, Colleen, who got injured during the Hampton's Half did amazing with a 3rd place win!
Going home, we were all so thrilled. This was the first time we all placed together and it felt amazing! 
Thanks EventPowerLI for having such a fantastic Stepping Stone Lighthouse 5K race. We'll be back next year and every year after that!