I've been looking for the perfect transition bag for a while now and have blogged about various brands. Recently I had the opportunity to check out the ROKA Transition Pack. I thought it was great. Here's why…
About the Roka Transition Pack: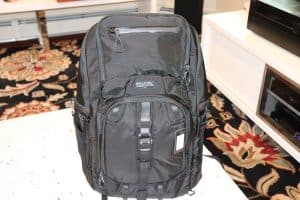 It's a big bag. The dimensions are 22″ x 13″ x 9″. It is compliant with all international carry-on standards. The Transition bag has three zippered interior compartments with removable Velcro walls that allow for easy customization. It has multiple inner storage pouches and zipper pockets to accommodate anything and everything. There are so many pockets and compartments in this bag it's simply a great bag for transitions (or for travel or both!).
I like that the bag is water-resistant and offers a wet-dry bag in the backpack for your wetsuit. (There's even a place for your laptop, iPad and mobile phone.)
On either side of the transition bag, there are two pockets that will keep your water bottles. It fits two standard bottles.
The back panels are a compression-molded ergonomic panel that maximizes comfort and efficiency.
‍
‍I love that it stands up, which makes it easier to pack, especially after a race when you're exhausted. This is a nice feature. The other nice feature is an external helmet carrying system that fits a helmet on the outside of the bag or a bike pump! If that's of no interest, there is an internal compartment for your helmet!
Taking it for the Test:
Since there are no races this year, I wasn't able to actually try it out on a race. But, I did fill it up and I loved that there were so many different compartments for all my gear. My cycling shoes have their own place. My wetsuit and swim gear have their own space. Even my running apparel has a spot! It's a tough, rugged bag that would be great for any race (or airline travel).
I can't wait for my next race to use it! To find out more about the Roka Transition Pack, go to https://www.roka.com/collections/backpacks. The Pack retails for $275.