Need tips on buying your first road bike?  Don't do what I did.  I went to a store that was recommended and asked the people there what would work for me. Next time, I would do my homework and that's what I'm recommending for you.
What type of bike should you buy if you want to start racing in triathlons?  A road bike? A time trial bike? (It seems that most recommend starting with a road bike and then down the line buying a time trial or a tri bike. Tri bikes are expensive and can start at $3K and up. You can pick up a road bike for $1K and up.)
If you spend more, does it pay off in terms of speed?
Should you buy an aluminum or carbon fiber? Carbon fiber bikes are lighter, which enable them to go slightly faster.
What type of components do you want? (Most beginners have no idea. Here's a chart:)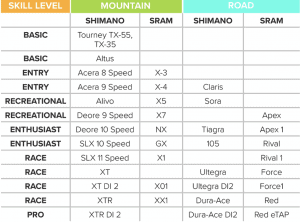 Does the frame fit you?
Comparison shop on the internet.  Are you getting a good price?
And finally, is the bike store fitting the bike for you?
Bike Fitting
I can't tell you how many times I had my road bike fitted.  Interestingly, each place I went to get it fitted, the fitter said something negative about the one who did the prior work.  There was one time when I actually took the bike in and when the fitter asked me to sit on the seat and put my feet on the ground, my feet were at least 6 inches off the ground. Apparently, that's very dangerous and not advisable, especially if you have to make a quick stop.
Ultimately, I ended up having someone fit the bike and then I adjusted it myself to make it comfortable for me.
Finally
When you purchase the road bike, make sure you feel comfortable and ride it a half dozen times to make sure.  If you're uncomfortable, bring it back.  Most reputable bike shops will do the right thing. If you plan on buying a tri bike in the future, it might not make sense to spend a lot on this first bike.
If you have any other suggestions or tips on buying your first road bike, please add in the comment section below.
---
This was a post I wrote in 2015. I updated it a little but most of the information is the same. I hope this helps. Happy shopping!