The last time I wore Brooks Ghosts was several years ago when I ran the NYC Half Marathon. I remember enjoying them. Really enjoying them. But then I started wearing "barefoot type shoes" and went away from wearing them.
When I was in Atlanta, I was talking with the folks at Philippides Running Store and they suggested that the Brooks Ghost 10 would be a perfect shoe for me. I reached out to Brooks to see if I could get a pair of shoes for this review.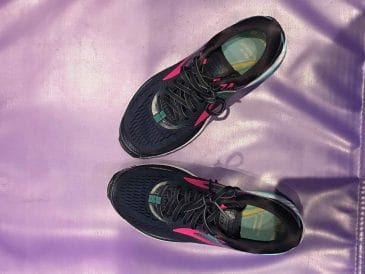 When I put the shoes on, I noticed that the toe box wasn't particularly large. I'm so used to a large toe box and have grown accustomed to it. However, once I started wearing the Ghost 10's I was incredibly impressed with how responsive, quick and light they were!
I also loved the way my feet felt. When I ran or walked in them, it felt smooth. It's hard to describe, but it felt very smooth.
A couple of points about the shoes:
the upper mesh offers ventilation without sacrificing fit or structure
the midsole cushion responds to your stride and to your step
there is a "plush transition zone" which is located on the bottom of the shoe and actually helps guide you from heel to toe off
it's a neutral running shoe with a 12 mm heal to toe drop
The thing that bothered me most, the normal toe box, soon dissipated. I didn't even notice it once I started to break in the shoe. The shoe retails for $101.05 on Amazon.