Discount Code Available!
I met the folks from MoxiLife at The Running Event in Austin and I'm glad I did. They have an interesting hydration product geared for all endurance athletes. Recently, they sent me a couple of samples for review.
When I asked for more information on the products, I spoke with Theresa Seaquist, who is on the MoxiLife advisory board and a 6x Ironman, she explained, "95% of Endurance Sports Nutrition products available on the market use Synthetic Vitamins derived from Petro Chemicals and are hormone disruptors. MOXiLIFE uses Garden Fresh Fruit and Vegetable Vitamins. These Vitamins are extracted via a patented process delivering the highest % of nutrients for fast absorption."
I told her that when I typically put a supplement in my water, I find that I gain weight. She explained that this "won't happen with MoxiLife products. We use all natural sweeteners like monk fruit and organic beet juice powder."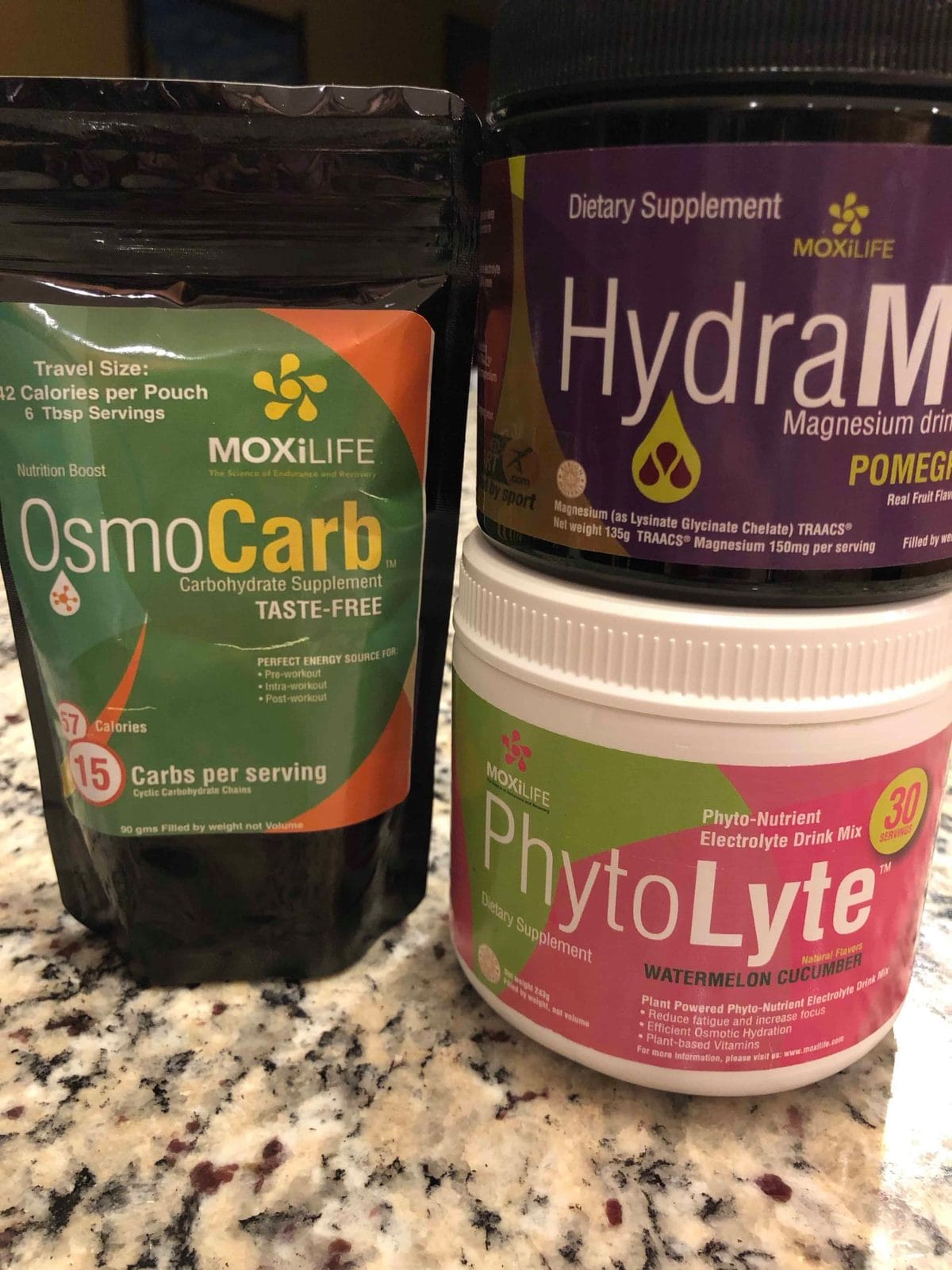 HydraMag®
HydraMag® is a magnesium drink mix that comes in Pomegranate flavor. It's absolutely delicious! You can easily drink this and want more! The company recommends taking HydraMag 2 to 3 times a day. The drink has all natural flavors and is sweetened with organic beet juice powder.
Each Serving delivers 150mg of Magnesium. HydraMag® can be used as your training and race drink for Sprint and Olympic distance races, however the intended use is for daily consumption.
"Also, HydraMag® is a natural anti-inflammatory and, with daily use, reduces the NSAIDs and anti-inflammatory OTC products so frequently used by athletes," Seaquist said.
PhytoLyte™️
PhytoLyte™️is sweetened with Organic Cane Sugar and Monk Fruit. All natural. This is a complete Electrolyte drink, to be consumed as an electrolyte beverage during racing and training. (Gatorade or Powerade but 1000x better).
Each serving contain the nutrients; from whole foods, equal to 1 serving of fruits and vegetables. (It's perfect for between meetings or if you miss a meal and need a pick me up.) In addition to the whole food vitamins, Seaquist told me that they "have added VitaCholine®, which helps each cell absorb fluids and reduces cellular dehydration."
Theresa Seaquist said, "PhytoLyte is "goodness in a glass"."
What to Take For Longer Distance Racing (3+ Hours or More)?
For Long distance training and racing (3+ hours), combine HydraMag®, PhytoLyte™️ & OsmoCarb is the perfect electrolyte mix. For shorter training and racing use HydraMag® and PhytoLyte™️.
When Would I Use OsmoCarb?
OsmoCarb is a race and training carbohydrate. OsmoCarb should be added to either the combination of HydraMag® and PhytoLyte™️ or just Phytolyte™️for a 70.3 or Ironman event.
This supplement has 15 carbs and only 57 Calories. Theresa Seaquist suggests, "using after training and racing to increase glycogen uptake.
"OsmoCarb is an even stream of carbs, no spiking and or carb crashes, no tummy issue (bloating and or gas), and easily digested," she said.
My take…
I've been drinking HydraMag® and PhytoLyte™️when I train for more than an hour and so far, I'm really liking it. The flavor is good with no aftertaste and I find that it keeps me going. I ran 10 miles so far using a combination of the two and have found that I could have kept going. Ten miles felt like a 5K to me, while others were crashing around me.
I look forward to training and racing with all of the MoxiLife products as the season gets underway and will continuously keep you posted on my take!
I'm impressed with the company and their products. Check them out at MoxiLife.com! And as a blog reader, you get 20% off your MoxiLife purchases by using the code: MOXIHT20.