A great pair of running socks is important, especially in the summer and into the fall months. If they don't fit right or they aren't made with the right fabric, you can easily blister and have an uncomfortable run. Below, I  highlight three different brands of socks for the summer and fall of 2020.
Balega International Socks
I was introduced to Balega socks nearly three years ago, right after the 2016 NYC Marathon. I didn't know much about running socks at that time and thought they were all the same. Unfortunately, I discovered the Balega socks too late and by the time I ran the NYC Marathon, my feet were covered in blisters. 
Balega socks have a contoured fit, seamless toe, deep heal pockets, ventilation panels, and expert craftsmanship. Each sock has a photo of the person who inspected the socks. 
The ventilation panels enable the air to get in and help prevent blisters. Since I have worn these socks, I have thankfully not gotten a blister! They are comfortable and in combination with my sneakers, are a perfect match. 
Balega has several different types of socks including the hidden running sock, the enduro, ultra light running, blister resist, and the silver collection. If you go on their website, you can take a little test and find the perfect socks for you. 
My favorite socks are the enduro, the hidden comfort and I like the silvers. 
After the introduction back in 2017, I loved the socks so much that I asked if I could be an ambassador for the brand. As an ambassador, I share the love of the socks with my community and I get a few pairs of free socks throughout the year. I also get a hefty discount off their website.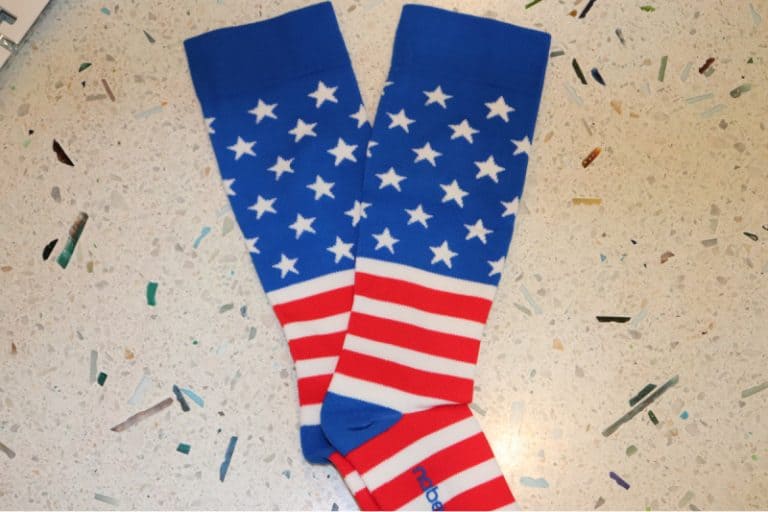 There are some people who don't like compression socks. I am not one of them. I happen to think they serve a purpose and help reduce pain and soreness associated with a long run or bike ride. So, when the makers of Nabee Compression Socks approached me for a review, I happily obliged. I was given a complementary pair for this review.
I've tried lots of compression socks and many of them I've liked. The Nabee Compression Socks have some interesting features including having a comfort cuff, which makes it easier to put on. (You know how some compression socks are hard to put on? These slide right on!)
The material is soft for optimum comfort, and they are comfortable! The Nabee Compression socks have a graduated compression of 20 – 30 mm Hg of compression. They have a seamless toe and come in fun colors and paterns.
The material claims that the heal is cushioned but I didn't find that to be the case. It felt the same thoughout the sock, which I found very comfortable.
In addition to reducing pain and soreness, compression socks energize your legs and feet and reduce swelling. When I'm running long or I'm going on a plane, I wear compression socks.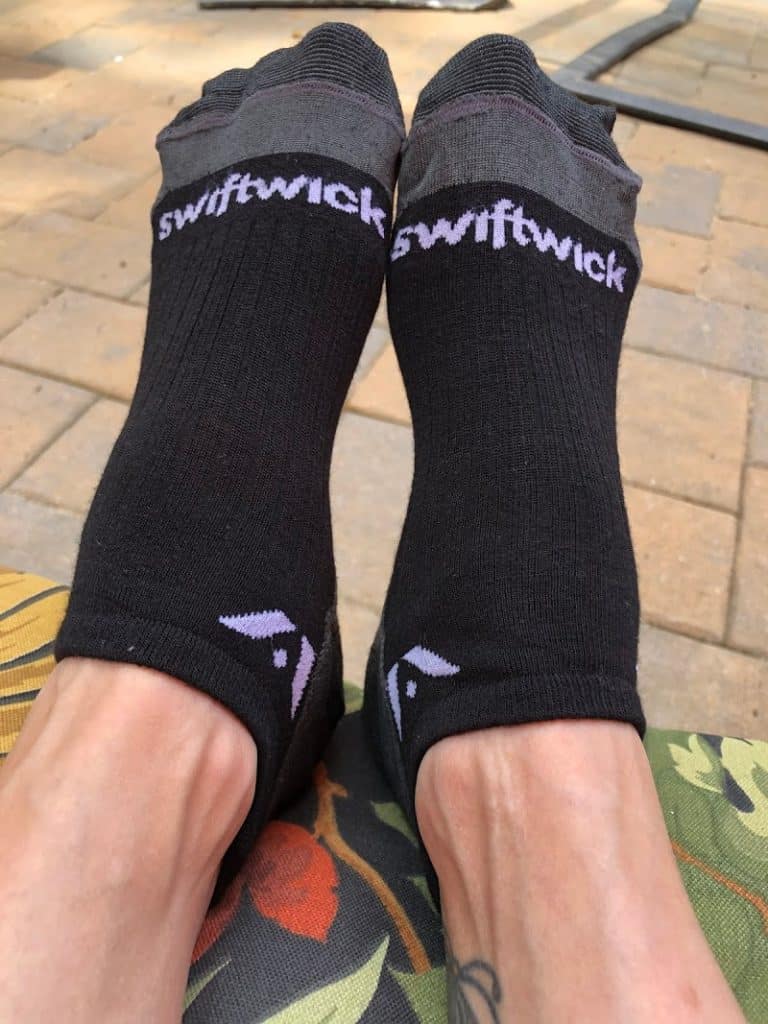 The new Swiftwick Pursuit are also compression socks but they are short, below the ankle socks for running. 
The Pursuit's are made from merino wool. They have a reinforced heal and toe for maximum durability. It can be worn any time during the year because they are so lightweight. They sit below the ankle with minimal extension above the shoe. 
The socks are 66% merino wool, 32% nylon and 2% spandex. They are compression socks and if you have high arches, they are great.
Taking the Socks on a Test Drive...
First Nabee
The Nabee Compression Socks are comfortable. As soon as I put them on, I could feel the benefit of compression. I also loved the styles that they have on their website. I chose the patriotic socks because they were fun and between Memorial Day, 4th of July and Labor Day, I thought I would get some good use out of them.
I love that they were designed by nurses and that they are medical quality socks, perfect for running, walking and/or traveling.
I requested a size M but should have gotten a small. I wear a 7.5 in shoes and an 8 in sneakers. I found that there was a little too much room in the toes. My suggestion is to go down a size if you are in between sizes. I also found that they come up almost to my knee, which I didn't love. I found that I needed to roll them down a little in order to wear them during a run. 
To be honest, I prefer to wear these after a run or ride as a form of recovery. I found them to be much better for that. 
Next, SwiftWick Pursuit
I found them very light and comfortable. I also liked the compression. It made my ankles feel comfortable and supported. However, my personal feeling, I like a little thicker sock, even on a hot day. I like having that extra cushion. When I wore them for a run, I felt that I had extra room in my sneakers. I usually go up a half a size. So, with the thinness of these socks, I found that my feet slid around a little bit and that bothered me while I ran.
As I mentioned earlier, Balega are my favorite socks. That's why I became a brand ambassador. I think my drawer is comprised of at least 95 percent Balega and it makes me smile. I wear them for running, cycling in the colder weather and for golf. I use them any time I wear a pair of sneakers for casual wear or for an activity. I'm thrilled to be part of their team.